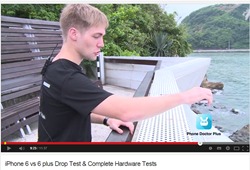 iPhone 6 Plus proves it can hold up at least 3 floors height
Kaohsiung, Taiwan (PRWEB) September 24, 2014
A video made for Phone Doctor Plus app, a top-selling phone function test app, shows a student at National Sun Yat-sen University in Kaohsiung, Taiwan, dropping a brand new iPhone 6 Plus from a height of 8 meters (over 26 feet). The iPhone 6 Plus sustained some damage to screen and casing, but still functioned perfectly. This was established by Phone Doctor Plus app, the app that checks 27 internal hardware functions of smart phones.
The experiment began by first dropping both the iPhone 6 Plus and iPhone 6 together at a lowered height of about 1.5 meters ( 5 feet). Phone Doctor Plus app showed that both phones are still fully functional after the fall, despite cracked screens.
But only the larger of the two, the iPhone 6 Plus, survived the 8 meters drop.
Dropping your smart phone is never a good idea, but accidents do happen. Phone Doctor Plus app informs iPhone owners whether 27 vital functions of their phones are still working properly, which is key information to know, especially after an accidental drop. In case of damage to the phone's screen or body, knowing the state of their phone's internal hardware functions will help phone owners decide if it is worthwhile to have their phones repaired.
Watch the video of the iPhone 6 and iPhone 6 Plus being dropped and then being diagnosed by Phone Doctor Plus app at https://www.youtube.com/watch?v=dFiBINpsEnw