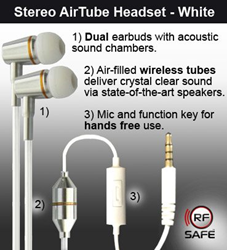 The highly anticipated iPhone 7, and iPhone 7 Plus have traded the standard 3.5mm headset jack for the sleek, water-resistant, and potentially dangerous Bluetooth wireless AirPods.
Palo Alto, CA (PRWEB) October 06, 2016
Following the $25 million National Toxicology Program's (NTP) study linking cell phone radiation with cancer in May, 2016, Apple has joined the discussion with their own radiation-related controversy. The highly anticipated iPhone 7, and iPhone 7 Plus have traded the standard 3.5mm headset jack for the sleek, water-resistant, and potentially dangerous Bluetooth wireless AirPods.
The NTP report, published in May 2016 by the Department of Health and Human Services (HHS), has linked cancer with chronic RF (radio-frequency) exposure, via rodents that were subjected to electromagnetic radiation over the course of the two-year study. The duration of this exposure was in keeping with the life-span of the rodents, beginning in utero, and on-going for two years. The results showed that the mice developed malignant tumors, similar to tumors found in humans who had been exposed to cell phone radiation long-term. None of the control rats developed tumors.
From the report:
Given the widespread global usage of mobile communications among users of all ages, even a very small increase in the incidence of disease resulting from exposure to RFR [radio-frequency radiation] could have broad implications for public health.
It isn't a secret, and definitely not exclusive to Apple's newest offering, that there is a definite link between cell phone use and radiation exposure. Even well before the release of the new iPhone 7, Apple had warnings about radio frequency (RF) exposure posted in the legal section of their own website. Referencing the iPhone 6, Apple suggests, "To reduce exposure to RF energy, use a hands-free option, such as the built in speakerphone, the supplied headphones or other similar accessories. Carry iPhone at least 5mm away from your body to ensure exposure levels remain at, or below, the as-tested levels."
The radiation emitted from a cell phone is measured by its SAR, or Specific Absorption Rate, the rate at which energy is absorbed by the human body. The FCC requires the SAR for a device to be 1.6 watts per kilogram or less. While Bluetooth devices only emit 0.466 watts per kilogram, some experts believe that prolonged exposure could be dangerous to consumers. The exact frequency of the Apple AirPod has yet to be released.
"What microwave radiation does, in most simplistic terms, is similar to what happens to food in microwaves, essentially cooking the brain," says Dr. Keith Black, chairman of the neurosurgery department at Cedars-Sinai medical Center in Los Angeles, to CNN." So in addition to leading to a development of cancer and tumors, there could be a whole host of other effects like cognitive memory function, since the memory temporal lobes are where we hold our cell phones."
Many consumers are taking precautions against this potentially hazardous equipment by seeking out alternative, compatible accessories from companies like RF Safe, who specialize in scientifically proven methods of reducing cell phone radiation exposure. RF Safe suggest an airtube headset when using an iPhone 7 or 7 Plus instead of the Bluetooth headsets suggested to be used with these model iPhones.
According to the website, "This is the perfect air-tube headset for all Android Devices, iPhone Devices or any other mobile devices you own. RF Safe's Acoustic Headset uses an Air-tube to keep distance between the connectivity of conductive metals to transmitter and ear-bud which safely delivers sound without electronics in your ear, thereby reducing cell phone radiation to the skull area by up to 98% over wired headsets or standard in-ear Bluetooth headsets."
There are contradictions in the wireless industry regarding the connection between Bluetooth headsets and brain cancer provoked by the lack of proper research studies. Some experts argue that the levels of radiation emitted are below the FCC regulatory standard and focus on the non-ionizing aspects of Bluetooth radiation, and is therefore "safe" for humans. Some experts suggest that even low-level cell phone radiation can be harmful with long-term exposure.
Bluetooth devices operate on a frequency quite similar to those used by cell phones or WiFi service, so "biologically, it's not a new form of exposure," states John E. Moulder, radiation biologist and professor emeritus at the Medical College of Wisconsin who has examined the health effects of using wireless devices.
ABOUT RADIO FREQUENCY SAFE – CELL PHONE RADIATION SAFETY
RF SAFE is a world-leading provider of cell phone radiation protection accessories and informational safety data. Since 1998 RF (Radio Frequency) Safe has been dedicated to evolving the wireless industries safety standards, by engaging in the business of design, testing, manufacture, and sale of safety technologies to mitigate harmful effects of cell phone radiation.