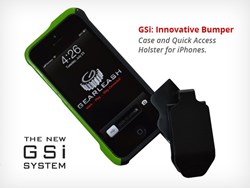 The bumper case stays firmly in the holster until you need it, making it a comfortable, convenient and secure solution for easy cell phone access
Albuquerque, NM (PRWEB) September 18, 2013
The creative minds at GearLeash have developed the new and innovative GSi system to provide quick and easy access for iPhone 4, 4S and 5 owners. With a protective bumper case that magnetically attaches to the holster via rare earth magnets, the system offers security as well as convenient cell phone access. As GearLeash reaches the end of its crowdfunding campaign on Kickstarter, the GSi bumper case and holster still needs the help of the crowdfunding community to meet its $12,500 funding goal.
The majority of cell phone owners store their phones in their bag, purse or pockets. However, these inconvenient storage options don't offer easy access, resulting in missed phone calls, text messages and photo opportunities. However, GearLeash has developed an innovative solution that will reinvent the way people store their phones: the GSi bumper case and holster.
The GSi is a two-part system that combines functionality with a sleek design. The first part is a stylish and durable bumper case that is made of alloy steel and molded polymer. GSi's bumper case fits snugly around the iPhone 4, 4S or 5 to protect from damage and loss of signal. The second part is a holster clip with rare earth magnets embedded strategically in the innovative design. These strong magnets attract the bumper case and hold it securely in place. Owners just have to attach the custom ratcheting clip to a belt, pocket or bag strap for easy phone access with just a flick of the wrist.
Even though the GSi allows user-friendly phone access, it also protects owners from losing their phones. To remove the bumper case from the holster, simply quickly rotate down and away from the holster. Specifically designed to be accessed with only this wrist movement, the GSi makes it extremely difficult for potential thieves to steal the phone. Also, the strength of the rare earth magnets prevent the bumper case from falling while owners are on-the-go, making the GSi system ideal for anyone leading a busy or hectic lifestyle.
"The GSi is designed to be practical for daily use for all iPhone owners," says GearLeash founder, Dave Garcia. "The bumper case stays firmly in the holster until you need it, making it a comfortable, convenient and secure solution for easy cell phone access."
To bring the GSi bumper case and holster to waists all over the world, GearLeash needs the help of the crowdfunding community. With just hours left on Kickstarter, backers can purchase their innovative bumper case and holster starting at $45 for iPhone 4 and 4S, and only $55 for the iPhone 5. The GSi Kickstarter campaign ends Thursday September 19th at 8:33am, so show support by backing the project and sharing it on Facebook and Twitter @GearLeash.
About GearLeash
GearLeash is a new startup located in Albuquerque, New Mexico. Because technology is evolving, and smartphones are becoming a part of our everyday lives, it only makes sense that smart devices should be easily accessible. GearLeash provides patented technology which offers an innovative system that is not only attractive while protecting your investment, but also allows for quick access. For more information on GearLeash, visit http://www.gearleash.com.