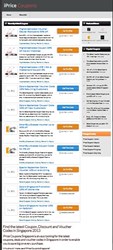 Find your best Discount on iPrice Coupons - Asia's best source for Coupon and Voucher Codes
Kuala Lumpur, Malaysia (PRWEB) September 27, 2013
iPrice Coupons is more than happy to announce the start of its service in two further promising markets in the region. Besides its launch in Singapore and Hong Kong, their service is also online in Indonesia (iprice.co.id), Vietnam (iprice.vn), the Philippines (iprice.ph) and its "home market" Malaysia (iprice.my). All of iPrice Coupons sites are locally served with coupons targeted at the local audience.
The basic idea of a couponing and voucher service is not new. It is already well-established in countries like the US or Europe. People in these parts of the world are suffering from economic downturns for years already and have to live with tight budgets. The internet revolution made those customers already aware of the money-saving potential of online shopping. Thus, many of these customers are constantly looking for online deals and discounts. They also helped for the great success of coupon and voucher sites in this part of the world, which often enable their customers to make huge savings of up to 60-80% off the official prices.
Another interesting development in this field is that these offers are not necessarily limited to only simple and cheap items and services, but nowadays can also be found as coupons for flights, high-fashion products, luxury spas or entertainment. For the above mentioned industries discount vouchers and promotions became a reliable and profitable additional source. For iPrice Coupons, that is reason enough to also start their services in SEA and especially Singapore and Hong Kong, with their numerous online shoppers and high-fashion enthusiasts.
One really interesting and supporting fact for a product launch in Hong Kong and Singapore is the state of development of online markets and the online consumers. With regards to the rest of SEA, consumers in Hong Kong and Singapore are by far the most developed internet users with a comparably high internet penetration rate. That makes them also ready for the next step of e-commerce, where consumers become picky and price sensitive and also step into a state where they would like to bargain prices. Bargaining which definitely also is part of the cultural roots of the trader folks in Singapore and Hong Kong, is usually not possible in the online sphere. iPrice Coupons is bringing back this option and translating it into the online world. The option to save money through the best bargaining skills gets replaced by their service for the best deals, coupons and vouchers, enabling a broad crowd of savvy online shoppers to take advantage of cheaper prices and at the same time allowing brands and retailers to target this highly qualified traffic through a new distribution channel.
About iPrice Coupons:
iPrice Coupons Hong Kong (iprice.hk) and iPrice Coupons Singapore (iprice.sg) as well as its other local sites are aiming to become the most powerful and useful couponing network in South East Asia. The above mentioned vision of becoming an additional digital distribution channel for companies and an enabler for customers to essentially save money during online shopping and finding the most recent deals and discounts on the net is deeply based in the roots of iPrice Coupons. For retailers and brands iPrice Coupons offers a platform to reach the growing, savvy online crowd with exclusive partnerships for coupon codes and discount vouchers. Some of its partners are Accor Hotels, Qoo10, Expedia, Zalora and Lazada which have their own store section on iPrice Coupons.
The team behind iPrice Coupons is constantly striving for the most recent coupons and voucher codes for each individual online shop on the platform. The most favorable coupons are also featured in a special section based on the user's vote and use of vouchers. Bringing together all these great opportunities on each end of the online shopping sphere, iPrice Coupons continues to grow all over SEA and especially Hong Kong and Singapore.
Find your best discount on Asia's best source for coupon and voucher codes – iPrice Coupons.