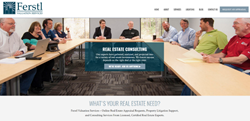 iProv, LLC Announces Launch of New Website for Ferstl Valuation Services
Little Rock, ARK. (PRWEB) March 13, 2017
iProv, LLC is proud to announce the launch of Ferstl Valuation Services' newly redesigned website ArkansasAppraisers.com. Ferstl Valuation Services has a wide service offering that includes commercial and residential real estate appraisals, business consulting, and expert witness services for property litigation cases.
The Arkansas-based appraisal company was founded by father-son team Tom and J.T. Ferstl, who are both licensed Arkansas attorneys. They started their business to offer reliable, certified real estate appraisals to clients in Arkansas, and have recently expanded to Florida.
With their website redesign, Ferstl Valuation Services continues to offer online appraisal requests, as well as resources for common real estate questions on their blog. The website is optimized for cell-phone use and features a modern, easy-to-navigate structure.
"We are excited to see what is in store for the people at Ferstl," Said RJ Martino, president and CEO of iProv, LLC. "In building their new website design, we hope to help them continue to grow and expand the reach of their services."
The year 2017 has already brought positive growth to Ferstl Valuation Services; the new website design coincides with the opening of their newest office, located in Bonita Springs, Florida. Ferstl Valuation Services aims to be the go-to company for clients in Florida and Arkansas needing commercial appraisals, residential appraisals, and real estate consulting services.
About iProv, LLC: iProv, LLC is a managed IT provider and digital marketing agency based in Little Rock, Arkansas. Serving small businesses across many verticals using flat-rate, mostly service packages, iProv custom-designs every client strategy to meet business goals. Digital marketing services include custom web design, search engine optimization (SEO/SEM), digital advertising, video production, lead generation, social media marketing, and email marketing. Visit iProvOnline.com or call 501-235-8196 to learn more.
###
Media Contact:
R.J. Martino
501-235-8196
rj.martino(at)iprovweb(dot)com