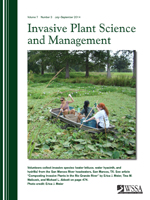 Eradicating invasive weed populations may provide the best solution to the problems they create, but can require great expanse and effort.
(PRWEB) November 10, 2014
Invasive Plant Science and Management—A new study reports the successful eradication of patches of the invasive weed cogongrass in the southeastern United States. Ranked as the seventh most troublesome weed worldwide, cogongrass presents an economic and ecological threat. These results offer land managers another option in fighting this noxious weed.
The current issue of Invasive Plant Science and Management reports the 3-year study, conducted at two locations in Alabama, used herbicide treatments of glyphosate, imazapyr, and a tank mix of both. Applications of the herbicides were made in May, August, and October of each year. The combinations of herbicide treatments and application timing generated nine different treatments in addition to a nontreated control.
According to the article, cogongrass seeds have a short viability and poor seedling survival; it is the weed's rhizomes that are difficult to defeat. The plant's subterranean system shows tolerance to heat and water stresses, and has strong persistence, aggressiveness, and regenerative capacity. The cogongrass rhizome system can account for up to 80% of the weed's biomass, making it difficult to eliminate.
During the study, visual control, shoot biomass, rhizome biomass, rhizome depth, and total nonstructural carbohydrate were measured as parameters of success. Several of the herbicide treatment and timing combinations proved successful in eradicating the cogongrass—though the amount of time to reach eradication varied. At one site, the May and October glyphosate treatment achieved eradication in 18 months, while the same treatment was successful after 36 months at the second site.
Imazapyr applications at all treatment timings came close to eliminating the cogongrass after 2 years and were successful after the third year at both locations. The combination of glyphosate and imazapyr also proved successful after 3 years of applications for all the treatment timings.
Eradicating invasive weed populations may provide the best solution to the problems they create, but can require great expense and effort. Studies so far have focused on control rather than eradication of cogongrass. This study offers a feasible method of elimination within localized areas. Further study may determine if larger-scale, regional treatments can be successful.
Full text of the article "Pushing toward Cogongrass (Imperata cylindrica) Patch Eradication: The Influence of Herbicide Treatment and Application Timing on Cogongrass Rhizome Elimination," Invasive Plant Science and Management, Vol. 7, No. 3, July–September 2014, is available at http://wssajournals.org/toc/ipsm/7/3
###
About Invasive Plant Science and Management
Invasive Plant Science and Management is a broad-based journal that focuses on invasive plant species. It is published by the Weed Science Society of America, a non-profit professional society that promotes research, education, and extension outreach activities related to weeds; provides science-based information to the public and policy makers; and fosters awareness of weeds and their impacts on managed and natural ecosystems. For more information, visit http://www.wssa.net/.