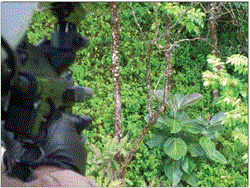 Herbicide Ballistic Technology is designed to discretely administer encapsulated herbicide to individual weed populations
Lawrence, Kansas (PRWEB) July 18, 2013
The Hawaiian Islands are known for lush plant life and steep terrain, but such extreme topography presents an additional challenge to managing invasive plant species. Ballistic technology, or encapsulated herbicide- projectiles containing less than 200 mg of herbicide and pneumatically launched from a helicopter, could provide solutions for managing invasive plants in Hawaii and other areas with rugged terrain.
An article published in the journal Invasive Plant Science and Management reported results of Herbicide Ballistic Technology testing. Experimental tests of this technology were conducted over a 1-year period while flying helicopter surveillance operations over the islands of Maui and Kauai.
Miconia calvescens, a 12–15-meter tall tree native to Central and South America, has become a nemesis in Hawaii, Australia, and other Pacific habitats. Intentionally introduced in new locations for its large, bicolored leaves, it quickly spread. A single plant can produce millions of offspring each reproductive cycle, which form dense monocultures that shade out understory vegetation, promoting soil erosion. Miconia was introduced to the Hawaiian Islands in 1961, where it subsequently escaped, and has been subject to management programs for the past 20 years.
Eliminating satellite populations of miconia is essential to effective containment. Herbicide Ballistic Technology is designed to discretely administer encapsulated herbicide to individual weed populations. Unlike conventional aerial spraying, this technology can reach beneath the tree canopy and hit the foliage or stem of the target plant. The herbicide projectiles are accurate within a 30-meter range and their high velocity impact creates an herbicide spatter of about 1 square meter.
Tests of this approach showed positive results for miconia search efficiency, target acquisition rate, and herbicide use when correlated to plant target density. These performance measures were used to create model simulations that can be used to project costs for effective containment of miconia based on application frequency.Information generated from these model simulations can help land managers decide how aggressively containment of miconia can be pursued. As helicopter flight time represents the predominant expense, the authors note that integrating air surveillance operations with Herbicide Ballistic Technology can best streamline efforts to contain miconia.
Full text of the article "Calibration of an Herbicide Ballistic Technology (HBT) Helicopter Platform Targeting Miconia calvescens in Hawaii," Invasive Plant Science and Management, Vol. 6, No. 2, April-June 2013, is now available.