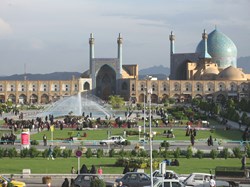 For the first time ever, a European private train tour will be allowed into Iran.
Seattle, WA (PRWEB) August 20, 2013
MIR Corporation is pleased to announce a new five-country, 15-day inaugural private train tour traveling to Hungary, Romania, Bulgaria, Turkey and Iran. Kicking off in October 2014 aboard the Golden Eagle Danube Express, this journey is aptly named Jewels of Persia. It will be the first-ever private European train allowed into Iran. The first journey, rolling between Budapest and Tehran, is October 14-28, 2014 and starts at $12,995. For more information, call 800-424-7289.
"For the first time ever, a European private train tour will be allowed into Iran," says MIR Vice President Annie Lucas. "Intrepid travelers will be a part of history on this truly unique journey."
The Golden Eagle Danube Express stops in locations significant for their history or natural wonder; many are UNESCO World Heritage sites. Highlights include: Sighișoara, Romania (rumored birthplace of Dracula); Veliko Tarnovo (Bulgaria's ancient capital); Turkey's historic Istanbul area; the Fairy Chimneys of Göreme Valley in Turkey; and Iran's vast treasures of Isfahan's Imam Square, the ruins of Persepolis and beautiful Gulestan Palace.
"What makes the Golden Eagle Danube Express private train distinctive is its relatively small group size capacity of around 65 passengers – considerably smaller than similar private rail journeys in Russia," said Lucas. "It's a more intimate experience, and makes for greater opportunities to meet fellow passengers on board."
These luxury train tours offer convenience and all-inclusive pricing: all meals; hotel and train accommodations; transportation; sightseeing excursions with local guides; and gratuities. Food is locally sourced, and travelers experience a fusion of cuisines and regional specialties while traveling from Europe into the Middle East.
Lucas also points out that, unlike the more typical upper/lower berth configuration used on private Trans-Siberian trains in Russia, deluxe en suite cabins on the Golden Eagle Danube Express are laid out with two lower beds, adding to comfort and mobility.
Interest in travel to Iran has grown at a stunning pace in the past year. MIR has added a second fall departure of its Ancient Persia – Modern Iran tour, and the spring 2014 departure of this tour is nearly filled.
The Jewels of Persia eastbound tour is scheduled for October 14-28, 2014 and the westbound tour is October 27-November 10, 2014 with prices from $12,995, double occupancy. For more information, visit http://www.mircorp.com/tour_PRAILPersiaEB.asp or call 800-424-7289.
About MIR Corporation
MIR Corporation, whose name means "peace" and "world" in Russian, has specialized in Russia (and neighboring countries) since 1986. Offering scheduled and custom journeys to Russia, along the Trans-Siberian and across the Silk Route, MIR's Seattle-based experts design imaginative trips that take travelers far from the familiar, and work closely with local affiliates in Western Russia, Siberia, Ukraine and Uzbekistan to carry them out. MIR has twice been named one of National Geographic Adventure's "Best Adventure Travel Companies on Earth," and is a preferred operator for museum, alumni and special interest organizations across the country.