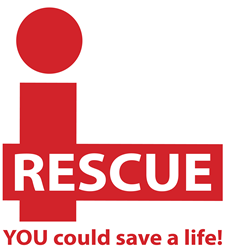 …It is going to be one of the best safety innovations since the telephone! – Jerry Freeman, Salem-News.com
Canby, OR (PRWEB) August 11, 2014
Make sure loved ones can be quickly located with a new breakthrough app.

A co-worker is stuck in a Florida hotel stuck in a hurricane.
Boy Scouts are lost in the woods on a hike.
Aunt Mary's neighborhood is hit by a tornado.
A twelve-year-old is kidnapped, she has her cell phone in her backpack…
With iRescue on their phones the chance to locate them quickly could be increased.

A co-worker in a Hurricane can use iRescue 'Snooze Mode' to indicate they are safe, if the situation changes a message and locator beacon will be sent out.
The Boy Scouts are found by a search party employing iRescue on a drone.
The cell towers in Aunt Mary's area are out, but her iRescue beacon brings search and rescue to her location quickly.
The twelve-year-old's cell phone is silenced to not draw attention to it while its location is relayed via iRescue.
iRescue is the first in the world application for smartphones and other electronic devices that is able locate people in a variety of emergency situations, even when the cell towers are not functioning across Android, Apple iOS, and Windows Phone platforms.
iRescue entered into an arrangement with FEMA to broadcast Wireless Emergency Alerts (WEA) through the IPAWS system. This will allow automated activation of the iRescue beacon if you are in a danger zone. Additionally, the Oregon Fire Chiefs Association we will be working to promote it this fall.
"The iRescue app is an obvious contribution to our current methods of search and rescue." – Ted Kunze, President of the Oregon Fire Chiefs Association.
iRescue is different than other rescue apps because it works whether the cell towers are functioning or not. Some of the key features of the app include:

Message sent with location information to friends and family if when a beacon is activated; remote activation of the emergency beacon if someone has been incapacitated;
Determine the exact location of an injured person who is within 250 feet of the searcher, utilizing Wi-Fi and Bluetooth when cell towers are unavailable;
Amber Alert tracking – find location and direction of travel when someone has been abducted;
Notification of emergency personnel of your allergies, prescription medications, blood type, and other medical issues;
Hide and Seek game.
The idea for the iRescue app came out of a FIRST® Lego League competition held in the fall of 2013. Each year has a different theme for the competition, in 2013 it was Nature's Fury. The Rockin' Robots are a group of 6 boys, a mascot, and a Lego® robot from Eccles Elementary School in Canby, Oregon. The team was tasked with coming up with an idea to help people before, during or after a natural disaster.
A Kickstarter campaign was launched as the first stage of marketing iRescue. The first goal was surpassed in less than 24 hours and iRescue will launch on Android and Apple iOS shortly after the Kickstarter project has ended. A beta review version of iRescue will be ready to send out for the Android platform within 2 weeks.
https://www.kickstarter.com/projects/2040502215/irescue-you-could-save-a-life-what-could-be-cooler
In a school project last spring, the kids were asked "What would you like your legacy to be?" They responded "To save lives with my iRescue."
"The life you save could be your own, or your kids." - The Rockin' Robots.
About iRescue
BOING! Designs has worked with the Rockin' Robots to design and develop the app, and is now working to promote iRescue. Please help us save lives and get more brain food: pizza and pretzels, so we can come up with our next great idea. -The Rockin' Robots: Adam, Cam, Connor, Jack, Jacob, Zack, Robot Buddy (mascot), Warthog (Lego Robot).
Website: http://www.iRescue-You.com
Dropbox: http://bit.ly/1setSIU
Kickstarter: https://www.kickstarter.com/projects/2040502215/irescue-you-could-save-a-life-what-could-be-cooler
Kickstarter bitly link: http://bit.ly/iRescue
Media Contact
Bill Hayhurst 503-299-6805 billh(at)boingdesigns(dot)com