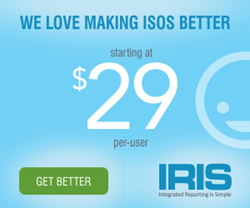 New York, New York (PRWEB) April 29, 2014
Integrated Reporting is Simple (IRIS) today announced the debut of their new a la carte pricing model designed to suit clients of any size.
The new Build Your Own CRM Tool from IRIS allows companies to select the package that works for them, no matter how large or how small the company happens to be. Customers can choose from three different user tiers, ranging from sales rep, to support, all the way up to manager.
Each tier is designed to provide the modules necessary for the demands of those specific positions. The Sales Rep tier comes standard with features such as pricing templates, residual reporting and a calendar with event reminders, while the Support tier comes with critical tools like the IRIS Helpdesk System, portfolio activity monitoring, and IRIS' powerful proprietary onboarding tool TurboApp. The Manager tier comes complete with all standard features of the sales rep and support tiers, as well as an advanced residual management system and all of their available add-ons.
Companies can also set up merchant access to IRIS, which grants access to IRIS' merchant portal, the transaction dashboard, the PCI status tool, and daily notification alerts.
"We feel that our new a la carte pricing menu is the perfect option for ISOs who need a business management platform that suits their specific needs," said Jason Weinberger, Sales Manager at IRIS. "No two companies are the same, and providing our customers with the ability to customize IRIS to their exact specifications is something that we believe will allow us to provide exactly the kind of superior service that we pride ourselves on."
For more information on new a la carte pricing, and to view their exclusive "Build Your Own CRM" tool, please visit the IRIS pricing page.
About IRIS:
IRIS is an ecosystem created and tailored for the payments industry. IRIS serves Independent Sales Organizations (ISOs) with a robust tool set for new account boarding, transaction tracking and an advanced sales pipeline management system. IRIS does not require software installation and is deployed as a Software as a Service (SaaS) package of modules.
Contact:
Jason Weinberger, Sales Manager
Integrated Reporting Is Simple (IRIS)
(888) 870-9978