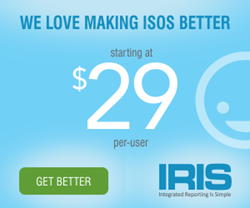 (PRWEB) April 30, 2014
Integrated Reporting is Simple (IRIS), a company specializing in creating an ecosystem of reporting, transaction tracking and CRM tools for the payment processing industry. IRIS announced today that their Founder and President Dimitri Akhrin recently participated in a panel discussion on PCI Compliance and was named a new member of the ControlScan Advisory Board at the ETA Transact 14 conference.
ControlScan is a company that provides security to the merchant services industry, and they assembled this Advisory Board for this year's ETA Transact conference with the goal of enabling top industry professionals such as Dimitri Akhrin to share their expertise in an open discussion.
As part of the panel, Akhrin, who is a certified payment professional (CPP), answered questions on Payment Card Industry Data Security Standard (PCI) Compliance. PCI Compliance is a set of requirements designed to ensure that all companies that process, store or transmit credit card information maintain a secure environment.
Akhrin and other members of the Advisory Board were invited to discuss their own PCI Compliance philosophy, and how much direct involvement they had with their individual company's compliance program. They then answered questions on a number of different PCIDSS related topics, such as the perceived awareness that merchants have for PCI standards and their responsibilities under those standards, and whether or not the recent breach environment has had any influence on their current PCI programs.
"It was an honor to participate in this panel discussion at the ETA Transact conference," said Dimitri Akhrin, Founder and President of IRIS. "I am passionate about the security of data, and relish any chance I can get to share my knowledge with fellow business owners and anyone looking to gain more information on PCI compliance standards, or the industry at large. Partnering with a fantastic company like ControlScan on this kind of a discussion forum was a great experience, and one I hope to participate in again very soon."
For more information on Dimitri Akhrin and the customizable solutions provided by the experienced team at Integrated Reporting is Simple, please visit http://www.iriscrm.com/.
About IRIS:
IRIS is an ecosystem created and tailored for the payments industry. IRIS serves Independent Sales Organizations (ISOs) with a robust tool set for new account boarding, transaction tracking and an advanced sales pipeline management system. IRIS does not require software installation and is deployed as a Software as a Service (SaaS) package of modules.
Contact:
Jason Weinberger, Sales Manager
Integrated Reporting Is Simple (IRIS)
(888) 870-9978