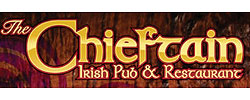 San Francisco, CA (PRWEB) June 05, 2014
The Chieftain is calling all soccer fans! The FIFA World Cup 2014 kicks off Thursday, June 12 when the World Cup hosts, Brazil play Croatia and the Irish pub and restaurant will be screening the games.
The World Cup runs through Sunday, July 13 and The Chieftain will be showing the soccer games all month long. The games will be screened live on the restaurant's big screen TVs. No matter what team fans root for, The Chieftain is the place to go to watch them compete. Fans can ask their server or bartender to turn on any game they'd like to see; The Chieftain will always honor requests!
There's no better venue for viewing the World Cup and all other sports than The Chieftain. The Chieftain is San Francisco's home for all sporting events. The restaurant is the perfect place to catch all the best International Football, Rugby, NFL, NBA, MLB, MLS, NHL and college sports games.
The restaurant will be open early all month long so that fans can watch all their favorite teams. The Chieftain is located at 198 5th Street at Howard, San Francisco, CA 94103. The restaurant encourages all soccer fans to come down to The Chieftain on Thursday, June 12 to join them as the FIFA World Cup 2014 kicks off. For more information, call 415-615-0916 or visit http://www.thechieftain.com.
About the company:
The Chieftain is an authentic Irish pub, located at 198 5th Street (cross Howard), directly across the street from The InterContinental Hotel. One block from Moscone Convention Center, and a short walk from many of downtown San Francisco's most familiar hotels and attractions, The Chieftain is the perfect place to stop for great food, a drink or to catch a game. The restaurant offers a warm atmosphere, friendly staff and delicious food. There' no better place around to spend time with family and friends. To check out their menu, well-loved by countless San Francisco natives and visitors, visit their website at http://www.thechieftain.com/.