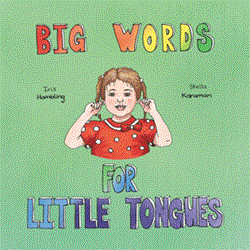 Auckland, New Zealand (PRWEB) September 16, 2013
Speech and language development typically advances quickly from two to five years of age. Preschoolers start to speak more clearly and master longer words with increasing consistency. Sounds such as L, R, S, SH, CH, V, J and TH are later to develop because they require mature tongue control.
"Big Words for Little Tongues" written by Iris Hambling and Stella Karaman is a special fun picture book of "tricky" words that many young preschool children find difficult to say. It includes carefully chosen polysyllabic words with combinations of the later developing sounds. Most adults will remember that they had a word or two which was hard to pronounce and may be aware of words such as hospital or spaghetti being tricky for little children.
Children may muddle up sounds and parts of longer words because they have not listened carefully and the word is hard to recall or because their tongues find it difficult to co-ordinate the required movements. The "tricky words" in this book have been tested with preschoolers and are presented in order of difficulty. The book should be enjoyed in the spirit of fun with children feeling pleasure and satisfaction in mastering a new word.
English is one of the world's universal languages and clear articulation is essential to also aid better international communication. "Big Words for Little Tongues" is a fun way to assist children to learn and develop listening and pronunciation skills.
For more information on this book, log on to http://www.Xlibris.co.nz.
About the Author
Iris Hambling has been a member of the New Zealand Speech Language Therapy Association for 46 years and has worked in both education and hospital clinics. Iris has had a private practice in Auckland for the last 30 years and has written several speech therapy manuals. Stella Karaman, the illustrator, is also a Speech Language Therapist and has a background of working with people with special needs. She can appreciate the difficulties of learning English as she immigrated to New Zealand at an early age.
Big Words for Little Tongues* by Iris Hambling
Publication Date: July 24, 2013
Picture Book; NZ$39.99; 28 pages; 978-1-4836-5987-9
Picture Book Hardcover; NZ$59.99; 28 pages; 978-1-4836-5988-6
EBook; NZ$3.99; 978-1-4836-5989-3
Members of the media who wish to review this book may request a complimentary paperback copy by contacting the publisher at 0800-443-678. To purchase copies of the book for resale, please fax Xlibris at (09) 353-1455 or call 0800-443-678.
For more information, contact Xlibris at 0800-443-678 or on the web at http://www.Xlibris.co.nz.