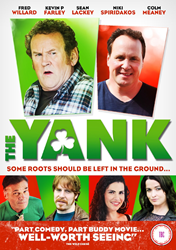 A hilarious comedy about finding your roots....with beer!
Cleveland, Ohio (PRWEB) March 05, 2015
Wet Ears Productions is thrilled to announce that the hilarious Irish-American romantic comedy The Yank is available today online at http://www.theyankmovie.com for purchase or rent, and the Film will make its premier on the big screen at the Capitol Theatre for one week starting March 20th, 2015. The film stars Colm Meaney (Hell on Wheels), Fred Willard (WALL.E, Anchorman), Kevin P Farley (The Waterboy) and was written and directed by Cleveland, Ohio's own Sean Lackey.
The Yank tells the story of fourth generation Irish-American Tom Murphy, who lives in Cleveland, Ohio with his family who are as Irish as they come – well they are as Irish as Americans who have never been to Ireland can be. When Tom learns that he is to be best man at his friend's wedding taking place in Ireland, Tom's family are eager to encourage him to take advantage of the trip and find himself an Irish girl to settle down with. The trip soon defies his preconceived notions and on a hilarious journey of discovery Tom may ultimately learn that some roots should be left in the ground…
The film, shot on location in both Cleveland and Ireland, is a love-letter not only to Ireland but also to the strong cultural connections felt by many Irish-Americans who have never even visited the emerald isle. The Yank was filmed at many cultural and social landmarks in Cleveland and Ireland.
Speaking about the release, Sean Lackey, director of The Yank said: "I felt compelled to write this story of my own experiences. My parents emigrated from Ireland and when we were growing up in Cleveland, St. Patrick's Day was a feast day celebrated with mass. It wasn't green beer, corned beef sandwiches, and viewing The Quiet Man, it was a holy day. I also think that when one comes from such a strong cultural or religious background, families tend to push the expectation on their young adults that they should marry their "own kind" and I've tried to address this in a humorous way with this film. The film took ten years to make and has been a labor of love. I'm delighted that we are now able to premier the film in Cleveland."
The Yank is also being released on DVD on Amazon.com and is now available on line at http://www.theyankmovie.com.