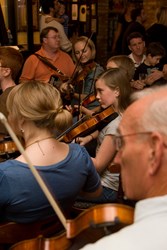 Chicago, IL (PRWEB) January 22, 2014
The Irish Music School of Chicago hosts its monthly Irish Heritage Hooley on Sunday, January 26, 2014 at 5pm at Chief O'Neill's Restaurant & Pub (3471 N. Elston, Chicago). A hooley is a community gathering where Irish music, song, and dance are featured with different generations coming together. The Irish Heritage Hooley brings the best of traditional Irish musicians, singers and dancers together with students and the community in a convivial, family-friendly atmosphere that welcomes all.
The Irish Music School of Chicago, a non-profit organization, preserves the living tradition of Irish music, song and dance by creating opportunities for different generations to come together, play and learn from each other. This is known as Ó Ghlúin go Glúin, or from generation to generation. The Hooley provides the unique opportunity for musicians and fans alike to come together to celebrate and keep alive the great history of this music in Chicago.
This month's Hooley will feature Rory Makem (of The Makem and Spain Brothers and son of Tommy Makem), Sean Cleland, Jim DeWan and members of the vast community of traditional Irish musicians and students from the Chicagoland area.
This popular, family-friendly event is offered free of charge by the Irish Music School of Chicago and Chief O'Neill's, but reservations are highly recommended to secure a table. For more information please visit http://www.irishmusicschool.org. To make reservations for the Hooley, please call Chief O'Neill's at (773) 583-3066.