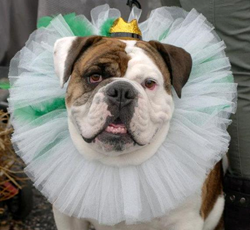 The annual parade, also known as Kansas City's "biggest little fun parade" consistently draws over 20,000 attendees!
Martin City, Missouri (PRWEB) March 08, 2014
Kick off St. Patrick's weekend by running in the Martin City Business & Community Association's 2nd Annual Whiskey Run 5K race! The race will be held first thing in the morning at 8:00 a.m., Sunday, March 16th, before the Irishpalooza St. Patrick's Parade in Martin City.
All 5K race participants will be given a free breakfast at RC's Restaurant! Spectators are also encouraged to join the runners at RC's for a specially priced breakfast buffet! (Open 7:00 am – 9:30 am)
Immediately following the 5K race is a Kids Fun Race, held at 135th Street and Oak Street. Information and registration about both the Kids Fun Run and 5K Whiskey Run can be found HERE
Race packets may be picked up on Saturday, March 15th at KC Running Company, 411 135th St. in the heart of Martin City, Missouri.
Thank you to our race sponsors for making the 5K Whiskey Run possible!
RACE SPONSORS:
Kansas City's Neighborhood and Tourism Development Fund
KC Running Company
Volleyball Beach
Sidelines Custom Floral Designs, Inc.
Intermark, Inc.
RC's Restaurant
435 South Magazine
Martin City Business and Community Association
Martin City Community Improvement District
********
After the race, stick around for the 27th Annual ST. PATRICK'S PARADE and Irishpalooza events in Martin City!
This year's theme is "Hard Hats and Green Barrels". We have encouraged all parade entries to decorate with green, green, green (and to promote recycling as well)!
Kathy Quinn, Emmy-winning Fox4 News Reporter is the official Grand Marshal and will kick the parade off at 2:00 pm.
PARADE SPONSORS:
Martin City Business and Community Association
Martin City Community Improvement District
Kansas City's Neighborhood and Tourism Development Fund
Google Fiber
Commerce Bank
Farmland
The Gerber Insurance Group
Central States Beverages
Rob Sight Ford
Mercedes Benz of Kansas City
Care Spot Express Healthcare
Jess & Jim's Steakhouse
Belfonte's Premier Car Wash
Pooper Scoopers
Union Pacific Railroad
Coffee News South
Jackson County Advocate
Martin City Animal Hospital
Irish Crystal Company
Martin City School K-8
Jack Stack Barbecue
Beadz Galore
Firestone Auto
IBEW Local Union 124
Martin City Brewery
RC's Restaurant
Sidelines Custom Floral Design, Inc.
Wayside Waifs
The parade begins at 2:00 p.m. departing from the State Line Point Shopping Center parking lot at Washington Street and 135th Street, proceeding east across 135th Street to Locust Street. The parade typically has over 35 entries - a great mix of floats, family entries, drill teams, auto clubs, motorcycle groups, dignitary cars, walking groups and many animal groups. The parade ends at around 3:30 p.m.
PARADE ENTRY PRIZES: Prizes will be awarded for the following categories:
Overall best parade entry = $600; Also receives an entry into the Downtown Kansas City St. Patrick's Day Parade on Monday, March 17, 2014
Overall second place entry = $300;
Overall third place entry = $100
RC's Best of Show award - wins framed certificate and Jess & Jim's Gift Card
Don Harmon Most Humorous Entry wins a framed certificate
*******
PARADE JUDGES:
Denis Corcoran-General Supervisor, Union Pacific Railroad
Kim Curtis-President, Grandview Chamber of Commerce
Chris Gentile-President, Honeywell FM&T
Claudia Meyer, Infinite Energy
Suzanne Sleptiza, First Lady of Avila University
*******
MORE FUN ACTIVITIES ON PARADE DAY:
Event Tent: This year, there will be an Event Tent in the parking lot of Martin City Sports Complex along 135th Street where the following events will take place:
Best Dressed Dog Contest: The Martin City Animal Hospital will coordinate and emcee a Best Dressed Dog Contest at 11:30 a.m. with the canine winners and owners from 1st, 2nd & 3rd places also riding in the parade and receiving gifts. Registration begins at 11:00 am
Prince & Princess Contest: sponsored by The Gerber Insurance Group, Commerce Bank and Martin City School K-8. Starts at 12:30 p.m. in the event tent. Children ages two to seven may enter with the winners judged prior to the parade and riding in the parade as royal dignitaries. The Prince & Princess will both receive gift baskets. All participants will receive a gift bag just for entering. Registration is at 12:00 Noon in the Event Tent.
After the parade, many attendees mosey on down to RC's Backdoor Restaurant & Bar, Jess & Jim's Steakhouse, the Martin City Brewing Company, Martin City Pizza and Taproom, and Jack Stack BBQ for a meal and more festivities. Or stop by Pizza Shoppe and take some pies home!
For more information about the parade, visit the Irishpalooza website. Here is more information about the 5K Whiskey Run.