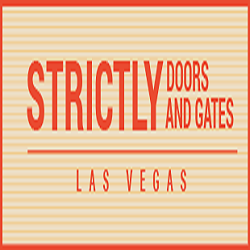 Strictly Doors and Gates is a trusted manufacturer of solar screens, and custom designs these screens to meet the specific needs of the Las Vegas area's homeowners and businesses.
Las Vegas, NV (PRWEB) August 12, 2014
Strictly Doors and Gates now announces the availability of a wide range of iron gates in Las Vegas for both residential and commercial purposes. They manufacture wrought iron doors and other products which are strong, sturdy, durable, and cost-effective. With their iron gates, one can be assured of complete protection and safety. While manufacturing these doors, they put an emphasis not only on the safety parts, but also on the gate design. All of their iron gates exhibit heightened levels of craftsmanship which will surely impress anyone.
Strictly Doors and Gates also offers screen doors in Las Vegas at reasonable price. These solar screens are precisely designed to help reduce electricity bills and are highly-durable with consistent functionality. They also specialize in custom-made solar screens, keeping in mind the variations in frame and size to match each client's space requirements.
Talking more about the solar screens at Strictly Doors and Gates, one of their representatives stated, "Strictly Doors and Gates is a trusted manufacturer of solar screens, and custom designs these screens to meet the specific needs of the Las Vegas area's homeowners and businesses. Use of these screens brings down energy expenses that usually shoot up high during the hot summers in Las Vegas. The glass on doors and windows are responsible for up to 48% of your cooling costs, whereas the use of solar screens blocks 90% of the sun's rays, preventing that same glass from heating up."
About Strictly Doors and Gates
Strictly Doors and Gates is a small, family-owned business located in the Las Vegas Valley, dedicated to providing excellent customer service to both homeowners and management communities. Strictly Doors and Gates specializes in customized service. Whether a customer is looking for repairs or maintenance, Strictly Doors and Gates can keep their community looking and functioning its best. They have a mobile, on-call crew that can take care of any customer's concerns, anytime of the day. No job is too small for Strictly Doors and Gates. With a mobile welding crew, they can repair customer's iron on-site. Their professional estimators also assist customers in designing their new gates, fences, courtyard entries, security doors, window guards, patio covers or solar screens.
For more information, please visit- http://strictlydoorsandgates.com