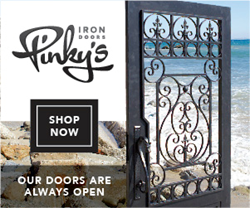 Los Angeles, CA (PRWEB) September 20, 2017
When the professionals that run some of the country's most trusted and watched design shows use a company, you know that that company is one that can be trusted with the big jobs. Pinky's Iron Doors has been in operation for more than four decades, and as of late, we've been busy providing our legendary workmanship for both our customers and some of TV's most prestigious series. You can see some of Pinky's handiwork on shows like Million Dollar Listing Los Angeles, Flipping Out, and Nate & Jeremiah by Design.
Pinky's Iron Doors provided great work for these shows, and the jobs were all done to the exacting requirements of the jobs that were being done.
Million Dollar Listing Los Angeles
Pinky's doesn't just specialize in wrought iron doors, steel doors, and metal windows. Sometimes, we're brought in for consulting work, and on Million Dollar Listing, Los Angeles, we helped the show's hosts, David and James, select doors from the Pinky's iron doors catalog for the customer's to use in the project. We also took a look at the floor plans and spoke on future design work that was incoming for the project.
This consultant-level work really highlights Pinky's expertise in the home décor world, and we really appreciate Million Dollar Listings for featuring us on their program.
Flipping Out
In the eighth season of Bravo's Flipping Out, Pinky's was called in to help provide a wrought iron door for Pacific Palisades, CA client Hania Handler. While the episode brought plenty of the show's traditional and entertaining drama, everyone was more than satisfied with the dooring options brought forth by Pinky's. For this episode, the Flipping Out's cast chose Pinky's 72 x 96 Air Four as the go-to steel doors for the job.
Nate & Jeremiah by Design
For the episode, "Carrie Bradshaw Meets the Jetsons," Pinky's provided the wrought iron door that was used to update the Silver Lakes, CA childhood home of a professional named Sherry. The job was done in order to redesign the house's decor and add splashes of color that would make it much more contemporary and stylish.
Pinky's work can easily be seen towards the end of the show when the show's hosts, Nate and Jeremiah, talk about all of the steps that they took to bring Sherry's inherited home into the 21st century. Pinky's is proud to have been part of this show because it really highlights our belief in décor and design and the usage of our 72" x 96" Beverly really brought Sherry's dreams to fruition.
Pinky's Iron Doors Founder, Dion Der, said this about their work on these design shows, "At Pinky's we take a lot of pride on our work and the doors that are available on our site. When we did work for Nate & Jeremiah, Flipping Out, and Million Dollar Listing, it gave us a chance to showcase both our design work and our products, which we'll always be grateful for."
CONTACT INFORMATION
Pinky's Iron Doors
6007 S. St. Andrews Pl, Unit #5
Los Angeles, CA 90047
Phone: (844) 843-6677
Email: info(at)pinkysirondoors.com