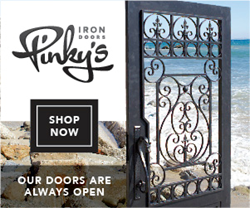 Los Angeles, CA (PRWEB) September 25, 2017
Pinky's Iron doors launched an affiliate program for industry professionals such as Builders, Construction Contractors, Interior Design and more.
The program provides a construction business a unique pricing scale after they have purchased their first three doors. Pinky's Iron Doors' primary requirement is that your business has a contractor's license. Then you will qualify to team up with Pinky's Iron Doors for wholesale pricing and affiliate support.
Being a part of Pinky's Iron Doors affiliate program, affiliates will be able to work with Pinky's Iron Doors to provide the community with our custom design doors which are installation friendly. If you're a professional designer, you also may qualify for our unique pricing scale. Pinky's Iron Doors wants to reach out and work in close collaboration with designers.
About Pinky's Iron Doors
Pinky's Iron Doors serves contractors and designers across the nation. Pinky's Iron Doors has the largest inventory of doors in the industry. They stretch themselves to the limit to make life easier for contractors and designers.
For further information on this affiliate program contact Pinky's Iron Doors toll-free at (844) 843-6677.