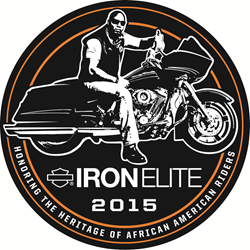 "We're excited to celebrate the history of African-American motorcycle riders and bike customizing," said Kris Weiss.
RALEIGH, N.C. (PRWEB) August 31, 2015
African-American riders have had a big impact on motorcycle culture, and that rich history will be honored during the 3rd annual "Iron Elite Celebration" Sept. 4-6 at Ray Price Harley-Davidson/Ray Price Triumph and Champions Bars & More in Raleigh. More information about this unique event can be found on the Ray Price Iron Elite website.
"We're excited to celebrate the history of African-American motorcycle riders and bike customizing," said Kris Weiss, director of marketing at Ray Price Harley-Davidson. "We have a great time making new friends and bringing old friends together to share in the importance of African-American motorcycle culture."
Events begin Friday, Sept. 4 with a weekend kickoff "meet 'n greet" at Champions Bars & More, located at 5563 Western Blvd. in Raleigh, from 7:30 p.m. to 1 a.m.
Saturday festivities begin at 10 a.m. at the Ray Price dealership, 1126 S. Saunders St. Events include a bike show, fashion show, sound-off, live music, DJ, plus vendors and food. A Saturday after-party takes place that night at Champions Bars & More. Bull City Riders will pit cook tasty food, with proceeds benefiting charity.
Motorcyclists are invited to enter the Iron Elite Bike Show on Saturday. Cost is $10 with all makes and models welcome. Winners in six classes will be awarded trophies and cash prizes, plus be entered to compete in the huge custom bike show at the Ray Price Motorsports Expo in Sept.
Sunday's "All Lives Matter" event begins at noon at Hawg Pen, 900 Hodges St., in Raleigh. Donations for homeless veterans will be collected, including hygiene items: shampoo, soap, toothpaste and toothbrushes, etc.
Through history, all-black and integrated motorcycle clubs began forming in the 1950s so like-minded people could create friendships around riding. Historic black bikers include William B. Johnson, the first black Harley-Davidson dealer; Bessie Stringfield, the first black woman to ride solo across country; and Benny Hardy, who created the most famous motorcycle in the world, Captain America, for the movie "Easy Rider."
● What: 3rd Annual Ray Price Iron Elite Celebration
● When: Sept. 4-6
● Cost: Events are free to the public, $10 registration for bike show participation
● Event contact: Kris Weiss, (919) 832-2261
About Ray Price Harley-Davidson
For more than 30 years, Ray Price Harley-Davidson has served as the center of motorcycle culture in Raleigh, N.C., and among the Southeast's top motorcycle dealerships. Home to Hall-of-Fame racing legend Ray Price, dealership staff have centuries of combined Harley riding experience to provide award-winning customer service and education programs for beginners-to-expert riders. Ray Price was again named a 2014 Dealernews Top 100 business, as well as a Powersports Business Power 50 Dealer. The team actively supports area charities through a wide range of philanthropy projects. Ray Price Racing won the National Hot Rod Association's (NHRA) Top Fuel Harley Championship in 2014.