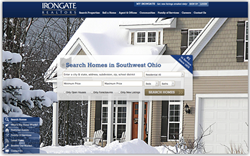 We chose Delta precisely because they could offer the design and technology we were seeking... we were thrilled with what they had to offer. -Irongate's co-owner Steve Brown and current President of the National Association of REALTORS®
Canton, Ohio (PRWEB) February 25, 2014
Delta Media Group, Inc., leaders in marketing and business solutions for real estate professionals, announced Friday the launch of a new corporate real estate website for Irongate Inc., REALTORS®, one of Ohio's largest independent real estate brokerages.
Irongate wanted to offer their customer base an enhanced online user experience while streamlining systems and upgrading their marketing technology for their agents. Their new website and marketing platform accomplishes all of that and more, providing upgraded tools for their consumers, agents and management staff through Delta's integrated enterprise web platform.
Irongate's elegant new website design features a vertical scrolling home screen with full screen background imagery and a hovering navigation menu which remains at the top as users scroll vertically.
The new IrongateRealtors.com also features the most robust real estate search in the industry. Its central quick search auto-complete box is centrally and prominently featured on the home screen, and it automatically suggests matching cities, towns, school districts and subdivisions while searchers are typing letters. Each search suggestion is clickable, and displays how many properties are for sale in its area.
The site's advanced search interface allows users to search for homes via Interactive Atlas Search powered by Google Maps, where users can click and drag their search area, then filter results by listing details as well as view thumbnail photos. The search map displays icons representing properties for sale. When clicked on, visitors will see a pop up with the listing's details, from which they can request a showing, ask questions or add the listing to their favorites. Visitors can also click to view additional information and the property image gallery.
"IrongateRealtors.com gives those searching for homes in Southwest Ohio a brand new online real estate experience," Delta Media Group President Michael Minard said, "Its home search options are the most advanced in the industry, allowing Irongate and its agents to better serve their customers by helping visitors find properties for sale as quickly and efficiently as possible."
Irongate's Marketing Director, Mark Stokoe, thought the timing was right for an overhaul to their corporate website. "We had not updated our site in more than five years, which is a very long time for the internet," says Mark. "The older site was wonderful in its day -- but was not as graphically engaging or technologically proficient as we wanted in 2014. Consumers indicated they wanted a simpler experience, in terms of search options, and so we listened."
Perhaps the most powerful feature of IrongateRealtors.com is what visitors won't see -- its user-friendly back-end management system. The real estate website is fully integrated with Delta's automated lead platform—the most advanced real estate back-office lead management system available. DeltaNet™ gives real estate agents a customizable home screen that allows them to see their new customer leads, recent customer web activity, to-do list, calendar and more.
Real estate leads captured by IrongateRealtors.com are distributed instantly through the platform, ensuring agents can follow up with inquiries as quickly and efficiently as possible. Lead notifications are distributed to agents by email and text message based on their lead qualifications, and the agent receiving each lead can log into the DeltaNet™ to follow their client's interaction and progression through their buying or selling process.
Mark Stokoe explains how the new integrated platform will help Irongate administrators manage their business more efficiently. "Delta's technology allowed us to fold our company's intranet site with its public facing website, making things easier for everyone."
Delta's feature rich real estate web platform not only represents an upgrade for Irongate's website visitors and back-office management staff, but also provides upgraded marketing functionality for all of Irongate's agents. The platform includes a fully integrated CRM and advanced marketing features which include an email marketing system, integrated blogging interface, integrated 5 Star Testimonials interface, social sharing features and much more.
Irongate's agents also have access to Delta Media Group's mobile DeltaNet™ app. The app allows agents to access and follow up with their leads and customer database and add new customers—all from their mobile phones. The app is integrated with the platform, allowing agents to access and update customer profiles on the go. "If you have a site that pleases both the public and your agents, it's gold," says Mark.
Irongate Inc., REALTORS®, Dayton's largest local independent real estate company, with almost 300 professional REALTORS® achieving more than $500 million in annual sales, offers the most comprehensive and professional real estate services available in Southwest Ohio. Irongate's suite of real estate services includes Residential, Multi-family, Farm & Acreage, and Commercial sales, Auction Assistance, Property Appraisal, Property Management, Notary and Corporate Relocation Services.
The real estate brokerage operates out of six offices covering the Miami Valley, conveniently located in Beavercreek, Centerville, Englewood, Kettering, Washington Township, and Springboro Ohio. Irongate is also a Leading Real Estate Companies of the World member.
"We are honored that a distinguished LeadingRE brokerage such as Irongate chose to partner with us for their corporate website development", says Delta VP Jonathan Blood, "Not only are they an Ohio customer, but a very well-respected brand nationally. A brokerage like theirs requires a cutting-edge real estate web platform that effectively balances the needs of the online consumer pool with the needs of their agents. Their customers will now get the state of the art user experience that our modern real estate website design can provide for them."
Irongate's co-owner Steve Brown, the current President of the National Association of REALTORS®, explains how their relationship with Delta began at last year's National Association of Realtors conference, then blossomed into a full-scale partnership over the last few months.
"We chose Delta precisely because they could offer the design and technology we were seeking in our enhancements," says Steve. "We had heard of them through our joint relationship with Leading Real Estate Companies of the World, for whom they are a provider. And as we began looking, and saw what they could do, and discovered they were an Ohio company, we were thrilled with what they had to offer. That -- and the fact that during of our search we found ourselves standing next to them in a taxi line while the National Association of REALTORS® in San Francisco last Fall. Passing the time began a serious conversation, and by the time our taxi's arrived, we were all growing excited about future possibilities -- possibilities that have now become realities."
The fact that Steve is the President of NAR only adds to the excitement for Delta. "Steve is an industry leader," says Jonathan Blood. "Part of the honor in having been selected by Irongate comes from the distinction of knowing that we passed Steve's test. That means quite a bit to us. Steve and his co-owner, Greg Gillen have been absolutely great to work with throughout the collaborative development process. We are very excited for this website launch and what we are hoping to be a long, successful partnership with Irongate."
Irongate's co-owner Greg Gillen agrees that the partnership with Delta is off to an outstanding start, and sees the launch of the new IrongateRealtors.com as just the beginning. "The development process has been outstanding," says Greg. "Every hurdle -- and there are always hurdles when you are dealing with almost 300 agents and thousands of listings in 15 counties -- has been dealt with promptly and professionally. We are always growing, adding new agents and new markets in Southwest Ohio. Our new website and its technology will only help us achieve even greater growth."
As Irongate continues to grow Greg sees their partnership with Delta growing as well. "That is one of the biggest reasons we chose to partner with Delta -- their collaborative culture mirrors our own," Greg added. "When people work well together, whether in technology or real estate, you get great results."
About Delta Media Group, Inc.
Delta Media Group is the enterprise marketing and business management solution for real estate professionals, leading the industry's online marketing, website design and business technology development since 1994. Delta partners with companies and top-performing agents at the point where marketing meets technology, helping clients efficiently navigate their business pipeline from lead to close. Delta is a Leading Real Estate Companies of the World Preferred Solutions Group Partner and serves many successful LeadingRE brokerages with web development, SEO and online marketing.
For more information about Delta Media Group and their real estate marketing technology solutions, please visit their website at DeltaGroup.com.