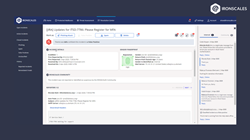 The new in-app chat tool enhances IRONSCALES' self-learning email security platform by building an open channel for security analysts to quickly collaborate on similar incidents.
TEL AVIV, Israel, and ATLANTA (PRWEB) April 30, 2020
IRONSCALES, the pioneer of self-learning email security, today unveiled incident responder's first in-app chat tool to encourage the sharing of phishing threat detection and open collaboration within security teams and a global community of analysts. Today, more than 40% of all phishing attacks identified by IRONSCALES are detected by our customers' analysts and incident responders, previously known as Federation, which now consists of over 1,000 security professionals worldwide.
The new in-app collaboration tool strengthens IRONSCALES 'Power of the Pack' approach to phishing mitigation in which human controls and technical controls constantly work together to minimize risk. Through real-time collaboration, IRONSCALES allows security practitioners to communicate within the platform to discuss common and mutually experienced threats; provide a venue for analysts to exchange questions and to confidently respond with guidance on suspicious email incidents - all while remaining anonymous.
"Email remains the number one vector for all cyberattacks, and the increase in frequency and complexity of daily attacks is putting a strain on security teams worldwide," said Eyal Benishti, IRONSCALES founder and CEO. "As a company with a philosophy built on the need for global collaboration, our new Slack-like collaboration feature provides our customers with yet another opportunity to democratize phishing threat detection in real-time. This two-way communication within our platform is yet another way IRONSCALES harnesses the collective power of human and machine intelligence to accelerate the decision-making process when the time from threat discovery to attack remediation is of the essence."
The new in-app chat tool enhances IRONSCALES' self-learning email security platform by building an open channel for security analysts to quickly collaborate on similar incidents, helping them keep up with today's influx of phishing attacks.
The new in-app chat capability empowers today's SOC teams by encouraging:

Internal collaboration between SOC and security teams as they adjust to remote work and telecommuting conditions.
Collaboration in the context of specific incidents and incident data.
Real-time human-to-human threat intelligence sharing and dialogue across IRONSCALES' global network of cybersecurity experts.
"During a time when attackers are working overtime to exploit human instincts and fears, our goal is to limit lapses in communication and to help our security team reduce burden," said Yossi Marmarali, CISO, Netafim. "IRONSCALES' in-app messaging tool allows our team to communicate both internally and externally, expediting our response time to phishing attacks even further."
The community in-app chat is available as part of IRONSCALES' broader email security platform that combines automation with human intelligence, maximizing both the power of people and technology as a vehicle to significantly reduce the risk of email phishing attacks.
To learn more about the benefits of democratized email security, read our e-book. For more information about IRONSCALES and to schedule a demo, visit: http://www.ironscales.com or follow @ironscales on Twitter and LinkedIn.
About IRONSCALES
IRONSCALES is the future of phishing protection, incubated inside the world's top venture program for cybersecurity and founded by alumni of the Israeli Defense Forces' elite Intelligence Technology unit. We offer security professionals and end users an AI-driven, self-learning email security platform that provides a comprehensive solution to stop tomorrow's phishing attacks today. Using the world's most decentralized threat protection network, our platform accelerates the prevention, detection and remediation of phishing attacks already inside your email with threat removal times in seconds, not minutes or hours. We give organizations of all sizes complete anti-phishing protection against any type of phishing attack, right now. Visit http://www.ironscales.com to learn more about The Power of Now.