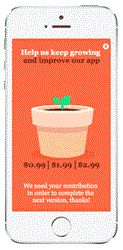 With kudosKit, the user plays and pays as he likes, connecting the reward directly to the user's perception of the app's value.
Tel Aviv, Israel (PRWEB) December 02, 2013
ironSource, a world leading digital distribution company, announced today the launch of kudosKit, a new and effective tool for monetizing mobile applications that is completely transparent to the user. With kudosKit, users decide if, and how, to reward the developers of their favorite mobile application.
Developers can suggest to their users a number of different ways to show appreciation for the app, including Boost Social, Improve Ratings, Contribution to Earnings, Get Feedback and Cross Promote Apps. The developer defines the Kudos-module according to the engagement, distribution and/or monetization goals for each application. The platform supports the creation of custom Kudos modules as well.
The kudosKit real-time server analyzes behavior patterns of users engaged with the app, and recommends to the developer which users might be ready to show appreciation for the application, easily allowing developers to identify users who may wish to give them Kudos. In this way, developers may reach loyal users while avoiding new or less-engaged users. Developers may monitor and optimize their Kudos within their applications in the kudosKit dashboard.
"With kudosKit, the user plays and pays as he likes, connecting the reward directly to the user's perception of the app's value," said Dan Greenberg, ironSource Chief Design Officer. "kudosKit is for those developers with really great apps, who do not want to disrupt their users' in-app experience just to earn a living," he added.
"kudosKit complements the ironSource mobileCore platform by offering another way to encourage engagement," added ironSource Deputy CEO Omer Kaplan. "mobileCore is an app monetization and distribution platform focusing on user engagement, that is already powering over 15,000 mobile apps."
kudosKit was built by the ironSource creative studio and innovation lab, the same team that developed the good weather app, a free iOS weather application that was featured on the Apple App Store homepage and quickly gained a large user base. Based on their success monetizing the good weather app, the ironSource creative studio team developed the kudosKit platform, which was then tested in a closed Beta encompassing over half a million users. The global average financial Kudos contribution reached $2.10 per user during the Beta testing.
To learn more about kudosKit, please visit http://kudos-kit.com/.
About ironSource
ironSource Israel (2011) Ltd. is the leader in digital content distribution, offering a complete ecosystem for downloadable applications including all aspects of user acquisition, conversion, monetization, integrated analytics and optimization. ironSource platforms include installCore, mobileCore, AfterDownload , CAST and kudosKit. Founded in 2009 and based in Tel Aviv, Israel, ironSource is a privately held company backed by Carmel Ventures, an affiliate of the Viola Group. For more information, please visit us at http://www.ironsrc.com.