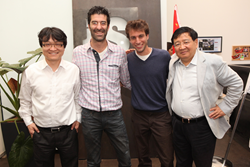 ironSource is recognized as an industry leader across the world and we are actively looking to expand our footprint in China.
Tel Aviv, Israel (PRWEB) May 01, 2014
This week, leading digital delivery company ironSource hosted a delegation of some of the most accomplished Chinese entrepreneurs and opinion leaders in the digital space at their offices in downtown Tel Aviv. The group was led by Xu Xiaoping, one of China's foremost angel investors, co-founder of New Oriental School and founder of ZhenFund, who invested in over forty companies last year with a focus on internet companies and education. Niu Wenwen, publisher and creator of The Founder magazine, and other leading figures also joined the delegation and visit to ironSource offices.
"It was a privilege to be part of Xu Xiaoping's first visit to Israel," said Yuval Reisman, head of ironSource operations in China and the organizer of the visit. "His enthusiasm and determination for pursuing innovation were inspirational, and it was incredibly exciting to discuss new ways China and Israel can learn from one another and collaborate profitably."
In the last year ironSource has placed a special emphasis on strengthening ties with the Chinese market and the company has found these steps to be mutually beneficial.
"ironSource is recognized as an industry leader across the world and we are actively looking to expand our footprint in China," said Tomer Bar Zeev, CEO of ironSource. "By collaborating with visionaries like Xu Xiaoping and Niu Wenwen we can more effectively address the needs of the Chinese market while also learning from the amazing entrepreneurial culture that they have been so instrumental in fostering."
Oded Rosenboim, VP of Sales at ironSource added, "The more we work in China, the more we understand the importance of personal relationships to succeed, which is why we deeply appreciate the opportunity to host the Chinese delegation at our offices and deepen the ties between our countries and companies."
During the visit, organized in collaboration with the Infinity Group, the delegation also met with Prime Minister Benjamin Netanyahu, internet companies Wix, Waze and DealPly, and Gamila Secret Soaps, the top-selling Israeli consumer product in China.
About ironSource
World leading digital distribution company ironSource offers a complete ecosystem for downloadable applications, including all aspects of user acquisition, conversion, monetization, integrated analytics and optimization. ironSource platforms include installCore, mobileCore, displayCore and mediaCore. Founded in 2009, ironSource is headquartered in Tel Aviv with offices in Beijing and San Francisco. ironSource is a privately held company backed by Carmel Ventures, an affiliate of the Viola Group. For more information, please visit us at http://www.ironsrc.com.