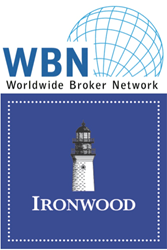 "We welcome Ironwood to our network. The firm is ranked among the fastest-growing in the U.S. and its structure parallels the WBN model," Bruce Basso, WBN CEO
SAN MATEO, CA/ATLANTA, GA (PRWEB) October 30, 2014
Worldwide Broker Network™ today announced that Ironwood Insurance Services has become the 98th partner firm in the WBN Network of independent insurance brokers and employee benefits consultants. WBN has members in 101 countries on 6 continents, as well as 8 Associate Member firms providing a wide range of related services.
Founded 7 years ago, Ironwood serves more than 300 clients, most of which are private equity firms and their portfolio companies, as well as middle market firms in the healthcare, manufacturing, construction, real estate and financial services industry sectors. Two-thirds of the firm's revenues are from property & casualty insurance services, with one-third from employee benefits consulting. The firm has a total of 45 employees in its Atlanta and Savannah offices.
"Being invited to join WBN is a win/win for everyone involved. Outgoing business from our U.S.-based clients has comprised most of our international activity to date, but 10 percent of our clients are based outside the U.S. In addition to better serving clients with tightly knit, integrated teams on the ground, WBN will also provide us with incoming business opportunities from around the world," said William Underwood, Managing Partner.
"We welcome Ironwood to our network. The firm is ranked among the fastest-growing in the U.S. The fact that it is employee-owned and managed parallels the WBN model in which independent members know what is best for their clients and their employees without decisions being made for them from a continent away," said Bruce Basso, WBN's Chief Executive Officer.
Celebrating its 25th anniversary in 2014, WBN has grown from 9 firms in Western Europe to nearly 100 firms spanning the globe and serving clients through approximately 500 offices on all six inhabited continents. These generally are among the largest independently owned firms in their respective markets, providing the highest degree of service to both insurance and employee benefits clients. As a result, WBN has become an important part of the industry's distribution network, generating an estimated $35 billion in Property & Casualty and Employee Benefits Premiums annually.
WBN's Central Office is located in San Mateo, California, between San Francisco and the Silicon
Valley.