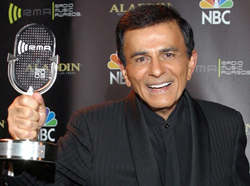 Kasem's children will get a $2 million benefit from the trust. A large chunk went to charities.
Boston, MA (PRWEB) June 24, 2014
American radio personality and voice actor Casey Kasem passed away Sunday, June 15th. According to the Associated Press, Kasem succumbed to dementia aggravated by Parkinson's disease (1). Prior to his sad demise, Kasem was at the center of a bitter family quarrel over his health care, which was ultimately sorted out in the Superior Court of California, County of Los Angeles, conservatorship case number BP-145805.
For nearly four decades, Kasem counted down the hit songs that entertained various generations on his weekly American Top 40 radio show. From rock to disco and from punk to rap, Kasem's mellifluous voice introduced us to popular music as well as long distance dedications, interesting stories and wise words of positive encouragement. He also entertained children as the voice of Shaggy Rogers, the lovable hippie and best friend of Scooby Doo, and as Batman's sidekick Robin in the Super Friends animated series (3).
Kasem was 82 years old when he passed (1). He is survived by his widow Jean Thompson, his four children, and an equal number of grandchildren. According to the Hollywood Reporter, Kasem's widow is now in charge of his memorial and the public reading of his will (4). Kasem was a very well-respected figure in the entertainment world; upon news of his sad passing, singer Elton John sang a touching rendition of "Don't Let the Sun Go Down on Me" during this appearance at the Bonnaroo Music and Arts Festival in Tennessee in memory of the dearly departed DJ (1).
Although Kasem will be fondly remembered for being one of the most positive voices on radio and one of the nicest guys in the entertainment industry, his last days were filled with sickness and ugly turmoil that was exacerbated with lurid coverage by gossip and tabloid news reporters (5).
Rocco Beatrice, Managing Director of Estate Street Partners, LLC, commented on Kasem's final days: "It is disheartening to learn that Kasem's life ended on a sordid not due to infighting between relatives. What we know from his conservatorship case and news reports is that he was careful about estate planning; however, a couple of issues could have received more attention and the unpleasant circus could have been avoided." Estate Street Partners, LLC is an estate planning and wealth management firm that operates the UltraTrust.com website.
The unpleasant circus that Mr. Beatrice mentioned began unfolding a couple of months ago when Kasem left a nursing home in California. His daughter Kerri, who is also a radio personality, told CNN that she was afraid her father's second wife may have taken the legendary DJ out of the country (6). It turns out that Kasem's wife moved him to a residence near Seattle. By that time, Kasem was thoroughly affected by Parkinson's disease and dementia.
Due to concerns over Kasem's health care, his daughters filed for conservatorship. "This is when things got complicated for the Kasem clan," explained Mr. Beatrice, "we know that he had prepared for the moment when his quality of life would diminish to the point of not being able to think or function, but he did not expect what happened next."
According to the Hollywood Reporter (5) and the Chicago Tribune (7), Kasem's estate planning measures included: An irrevocable trust, a will and an advanced medical directive appointing one of his daughters to make decisions on his behalf as to what should be done if he lost cognitive functions; for example, if he fell into a vegetative state. Kasem probably guessed that Parkinson's disease would consume him, and he did not want to be kept on life support under such circumstances.
The battle over Kasem's health care was sparked by an interpretation of the advance directive as a living will. According to Billboard (8), Kasem's daughter thought that the time had come to stop feeding and hydrating her father; however, his wife disagreed. At some point during the conservatorship proceedings, Kasem was admitted to the hospital due to an infected bedsore. His daughters wanted to execute Kasem's advance directive, but his wife opposed.
Dreadful theatrics marred the conservatorship proceedings. According to the Hollywood Reporter (5), Kerri Kasem staged silent vigils outside of the house where her unresponsive father was staying in; these gatherings resulted in sharp jibes by Kasem's wife, who accused Kerri of working as a pornographic model. Furthermore, Kasem's wife alleged that Kerri wanted to accelerate her father's end-of-life measures so that she could get to his estate and transfer millions of dollars to the Church of Scientology. At one point, Kasem's wife even threw raw steaks at his daughters just outside of Superior Court in Los Angeles (7). She explained that her gesture illustrated her "feeding a pack of wild, rabid dogs."
"What a mess," commented Mr. Beatrice. "It is important to note here that the conservatorship case had nothing to do with the irrevocable trust. It was focused only on the advance directive." In fact, the Hollywood Reporter quoted a Kerri Kasem spokesperson who explained that the late DJ's children will get a $2 million benefit from the trust.
To conclude, Mr. Beatrice stated: "We often serve as trust protectors to our clients. We provide professional advice to trustees and become confidants to grantors. Our clients sometimes discuss family issues with us for the purpose of making the right decision with regard to estate planning and asset protection. We recommend a similar approach when it comes to matters related to advance directives. Kasem should have retained elder law attorneys to help him create a solid advance directive that addressed the personalities and dysfunctions of his relatives. Clients are often candid with us when it comes to estate planning and asset protection, and we think that they should be. Delicate matters such as advance directives should be handled protectively."
About Estate Street Partners (UltraTrust.com):
For 30 years, Estate Street Partners has been helping clients protect assets from divorce and frivolous lawsuits while eliminating estate taxes and probate as well as ensuring superior Medicaid asset protection for both parents and children with their Premium UltraTrust® Irrevocable Trust. Call (888) 938-5872 to learn more.
#
Sources:
1. hosted.ap.org/dynamic/stories/U/US_OBIT_CASEY_KASEM?SITE=KING&SECTION=DEFAULT&TEMPLATE=ENTERTAINMENT.html 06/16/14
2. s3.documentcloud.org/documents/1184740/ruling-in-conservatorship-of-casey-kasem.txt 6/9/14
3. voicechasers.com/database/showactor.php?actorid=1806 6/15/14
4. hollywoodreporter.com/news/casey-kasems-widow-handle-djs-712152 6/16/14
5. hollywoodreporter.com/news/casey-kasems-daughter-denies-stepmothers-710987 6/11/14
6. edition.cnn.com/2014/05/15/showbiz/casey-kasem-whereabouts/ 5/15/14
7. chicagotribune.com/health/sns-rt-us-casey-kasem-advance-directives-20140616,0,1474021.story 6/16/14
8. billboard.com/articles/news/6114111/casey-kasem-judge-orders-hold-on-end-of-life-measures-wife-dont-let-them-kill 6/9/14