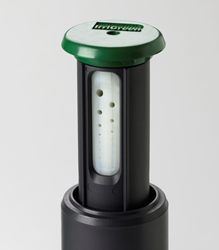 IrriGreen is transforming lawn irrigation with digital technology that advances the accuracy and effectiveness of in-ground sprinklers
MINNEAPOLIS (PRWEB) October 14, 2014
IrriGreen, Inc., developer and manufacturer of the IrriGreen Genius™ Irrigation System, announced that three business executives have joined its board of directors. The three new board members are Jack Judd, Carl Hung and Andy Vander Woude. The IrriGreen Genius™ Irrigation System digitally controls its innovative sprinklers to match watering patterns to the exact shape of any lawn. IrriGreen uses up to 50 percent less water than conventional systems.
"In the U.S., outmoded sprinkler systems waste an estimated 4.5 billion gallons of water every day. IrriGreen is transforming lawn irrigation with digital technology that advances the accuracy and effectiveness of in-ground sprinklers," said Gary Klinefelter, founder and chief executive officer, IrriGreen, Inc. "As we bring our break-through, eco-friendly technology to the market, our board members bring us experience and expertise from their successful careers that will help us succeed."
Jack Judd — Mr. Judd is chief financial officer of Proto Labs, Inc. Based in Maple Plain, Minn., Proto Labs is a leading online and technology-enabled, quick-turn manufacturer of custom parts for prototyping and short-run production. Utilizing injection molding, computer numerical control (CNC) machining and additive manufacturing, Proto Labs produces parts for product designers and engineers worldwide. Mr. Judd previously served as CFO for both Compellent Technologies and ATS Medical, Inc. He has an M.B.A. and a bachelor's degree in accounting, both from St. Thomas University (St. Paul, Minn.)
Carl Hung — Mr. Hung is president and chief operating officer of Season Group International Co., Ltd. With headquarters in Hong Kong, Season Group is a global, vertically integrated electronics manufacturing services (EMS) provider. The company provides wire harness and cable assemblies, printed circuit board assemblies, die and mold making, plastic injection molding, plastic thermoforming, and electro-mechanical box build assemblies. A certified Six Sigma Black Belt, Mr. Hung has an M.B.A. from the Richard Ivey School of Business, University of Western Ontario (London, Ont.) He graduated from the University of British Columbia (Vancouver, B.C.) with a bachelor's degree in finance.
Andy Vander Woude — A technology executive and entrepreneur in Los Angeles, Calif., Mr. Vander Woude was the co-founder and chief executive officer of VAST Enterprises, Inc. (Minneapolis, Minn.) VAST pioneered and patented materials science technologies that transform recycled tires and plastics into a composite material used to manufacture industry-disrupting green building products. Pavers produced in the composite material are now distributed as AZEK Pavers®. Before founding VAST in 2006, Mr. Vander Woude was a business unit manager at Fargo Electronics. He has a Master of Science in management from the Carlson School of Management, University of Minnesota (Minneapolis, Minn.) He earned a bachelor's degree in electrical engineering at the University of South Dakota (Vermillion, S.D.)
About IrriGreen, Inc.
IrriGreen, Inc. (Minneapolis, Minn.) is dedicated to sustaining beautiful, green lawns by designing and manufacturing digital irrigation technology that is simpler to install, easier to adjust and maintain, and water saving. The IrriGreen Genius™ Irrigation System digitally directs its unique sprinklers with 14-stream, multi-trajectory nozzles to match precise watering patterns to the exact contours of any lawn — every curve, every angle, every corner. IrriGreen achieves superior water conservation with spray accuracy and watering uniformity unimaginable with ordinary irrigation systems. IrriGreen is Pure Genius™. Discover the next generation in lawn irrigation at http://www.irrigreen.com.
Notes to Editors:
A YouTube video demonstrating the IrriGreen system is available online: IrriGreen in Action.
IrriGreen, Inc. will exhibit the IrriGreen Genius™ Irrigation System at the Midwest Innovation Summit on October 27-28, 2014 at The Depot Renaissance Hotel, 225 South 3rd Avenue in downtown Minneapolis, Minn. Organized by the Midwest Cleantech Open, the Innovation Summit explores new industry developments and opportunities for wave-of-the-future products and services that maximize resource efficiency and minimize environmental impact.
IrriGreen Media Contact:
David Aquilina
Strategic Storyteller
612-716-5628
davida[at]strategicstoryteller[dot]com