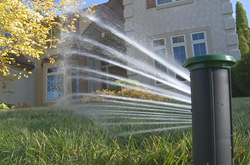 IrriGreen has achieved a significant technical advance for water conservation in irrigated landscapes
MINNEAPOLIS (PRWEB) November 18, 2014
The IrriGreen Genius™ Irrigation System, which utilizes next generation digital technology to advance water-saving lawn irrigation, won a 2014 Product Innovation Award from Architectural Products magazine. The Product Innovation Awards honor ingenuity in the design, development and refinement of building products. Digitally controlled to match watering patterns to the exact shape of any lawn, IrriGreen uses up to 50 percent less water than ordinary systems.
"The Product Innovation Awards highlight manufacturers who have developed superior building products that deliver better performance, longer service life and more affordability," said Jim Crockett, editorial director, Architectural Products magazine. "The judges determined that IrriGreen has achieved a significant technical advance for water conservation in irrigated landscapes. According to the judges, IrriGreen is an inventive solution for making residential and commercial landscapes more sustainable."
"Applying technology and nozzle design adapted from the high-tech, commercial printing industry, IrriGreen digitally controls each IrriGreen Genius™ Sprinkler," said Gary Klinefelter, founder and chief executive officer, IrriGreen, Inc. "As the Genius™ Server monitors and adjusts stream volume, direction and distance, our sprinklers conform watering patterns to the specific outline of each section of the lawn. IrriGreen maintains uniform water distribution at distances up to 35 feet while eliminating wasteful overlapping sprays, over watering and over spraying."
The Product Innovation Awards (PIAs), which marked their fourth year in 2014, are sponsored by Architectural Products magazine. The program aims to help architects identify and specify products that offer innovative solutions for building design and construction challenges. A panel of 50 independent, impartial industry professionals, including architects and designers, review and judge products submitted by manufacturers. Their submissions summarize product features and functions, unique benefits and green attributes. Manufacturers are also required to present case studies on actual product applications and include comments from developers, architects, builders, contractors and facility managers.
About IrriGreen, Inc.
IrriGreen, Inc. (Minneapolis, Minn.) is dedicated to sustaining beautiful, green lawns by designing and manufacturing digital irrigation technology that is simpler to install, easier to adjust and maintain, and water saving. The IrriGreen Genius™ Irrigation System digitally directs its unique sprinklers with 14-stream, multi-trajectory nozzles to match precise watering patterns to the exact contours of any lawn — every curve, every angle, every corner. IrriGreen achieves superior water conservation with spray accuracy and watering uniformity unimaginable with ordinary irrigation systems. IrriGreen is Pure Genius™. Discover the next generation in lawn irrigation at http://www.irrigreen.com. A YouTube video demonstrating the IrriGreen system is available online: IrriGreen in Action.
— end—
IrriGreen Media Contact:
David Aquilina
Strategic Storyteller
612-716-5628
davida[at]strategistoryteller[dot]com