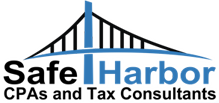 Many people facing an IRS audit turn to attorneys
(PRWEB) June 29, 2016
Safe Harbor LLP, a top San Francisco accounting firm with a vibrant practice in IRS Defense, is proud to announce the launch of an exciting advertising campaign to help people facing an IRS audit, whether as individuals or as businesses. The ad campaign will target San Francisco Bay Area residents, and ties into increased informational assets on the firm's website.
"Many people facing an IRS audit turn to attorneys," explained Chun Wong, Managing Partner at Safe Harbor LLP. "While attorneys can certainly be useful, our advertising campaign showcases our own expertise vis-a-vis IRS audit defense for San Francisco Bay Area individuals and businesses."
To view the ads directly, go to Google or Bing and enter 'IRS Audit Defense.' Those persons in San Francisco will see the Safe Harbor ads prominently displayed on each search results page or SERP.
IRS Audit Defense Issues: From Ads to Information Assets
Many people facing an IRS audit turn first to Internet search engines such as Google, Yahoo, and Bing. The firm's new advertising campaign means that Bay Area residents will see informative yet short ads on the topic placed strategically on the search engines. The ads then go to specific landing pages, where the persons can reach out for a consultation. In addition to advertising, interested persons can browse the website and find both an informational page on IRS audit defense issues at http://www.safeharborcpa.com/irs-audit-defense-2/ as well as read the firm's lively blog, with many posts on the issue. In this way, both the firm's content and its advertising efforts for Summer, 2016, will heighten awareness of IRS audit defense services.
Persons who are not ready to engage in a consultation can also sign up for the firm's 'tax tips' newsletter at http://www.safeharborcpa.com/san-francisco-tax-tips/. This no cost newsletter is sent out monthly by email and educates both individuals and businesses about tax issues. The best way to avoid an IRS audit, after all, is to work with a diligent tax preparation service to have one's books, deductions, and tax strategies in order.
About Safe Harbor LLP – a Professional CPA Firm in San Francisco
Safe Harbor LLP is a CPA firm that specializes in accounting and tax services for individuals and businesses throughout the San Francisco Bay Area and greater California. Safe Harbor CPAs helps both individuals and businesses with tax preparation, IRS audit defense, and audited financial statements. The firm prides itself on friendly yet professional service and utilizes state-of-the-art Internet technology to provide quality customer service.
Safe Harbor CPA
http://www.safeharborcpa.com
Tel. 415.742.4249