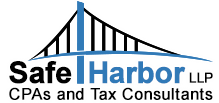 Being audited by the IRS or FTB need not be terrifying.
San Francisco, CA (PRWEB) July 28, 2015
Safe Harbor LLP, a top San Francisco accounting firm specializing in IRS and FTB Audit Defense, is proud to announce updates to its online information for those persons or businesses facing IRS audits. The company has a newly updated landing page on IRS audit defense, as well as an updated blog on IRS audit defense issues.
"Being audited by the IRS or FTB need not be terrifying," explained Chun Wong, Managing Partner at Safe Harbor LLP. "We receive many inquiries from San Francisco individuals and businesses who have received information requests from the IRS and/or FTB. By updating our online information, we hope to improve both the online experience of those seeking information as well as to reach out to those who want professional help in preparing to face an IRS audit."
Updated Online Information on IRS Audit Defense
Interested parties are referred to two key, newly updated pages on the website. First, the firm's informational page on its services regarding IRS audits at http://www.safeharborcpa.com/irs-audit-defense-2/. There, in addition to IRS audit defense information, the firm also explains its services regarding defending against FTB audits. The "Franchise Tax Board" is the agency of the state of California charged with enforcing tax laws within the state. Secondarily, persons facing an IRS audit can browse the firms' landmark blog articles at http://www.safeharborcpa.com/tag/irs-audit/. Among the topics covered are how to choose an IRS audit expert, whether an attorney or CPA firm or both. This issue, in particular, is important as often both types of services are of use.
Responding to an IRS or FTB Audit Requests
While receiving an audit request may seem terrifying, Safe Harbor LLP helps its clients respond in the most efficient and legally acceptable way. For most clients, the best practice is to keep good records and file tax returns in a timely fashion. For its on-going client base, Safe Harbor LLP helps clients to make sure that both record-keeping and tax filing are done properly and on time. For those clients who do receive an IRS and/or FTB audit request, the firm helps them respond in a timely and legally appropriate fashion. If needed, extensions can be requested and the firm will meet with the IRS and/or FTB representative along with the client to make sure that the information provided is correct. That said, the goal of Safe Harbor LLP is to minimize taxes paid to the full extent of the law. So the first step for an individual or business receiving an audit request letter is to reach out for a consultation with one of the firm's expert accountants.
About Safe Harbor LLP – a Professional CPA Firm in San Francisco
Safe Harbor LLP is a CPA firm that specializes in accounting and tax services for individuals and businesses throughout the San Francisco Bay Area and greater California. Safe Harbor CPAs helps both individuals and businesses with tax preparation, IRS audit defense, and audited financial statements. The firm prides itself on friendly yet professional service and utilizes state-of-the-art Internet technology to provide quality customer service.
Safe Harbor CPA
http://www.safeharborcpa.com
Tel. 415.742.4249