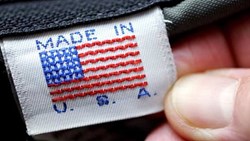 Sacramento, CA (PRWEB) February 12, 2014
With the multitude of decisions facing mattress shoppers, choosing between imported and domestically-produced beds may not seem important; however, there are a few things shoppers might want to consider. Buying American-made products offers obvious aid for the slow-recovering economy, but there are also other ethical and safety considerations as well when it comes to mattresses.
The Best Mattress, a blog on beds, explains how origin can impact mattresses and other factors shoppers should be aware of in their latest article, titled "Is the "Made in USA" Label Important for Mattresses?." The blog offers a pragmatic approach, explaining the key differences as well as concerns voiced by consumers.
Introducing the subject are findings from a 2013 Harris Poll, which surveyed over 2100 people on the importance of buying American goods. The Best Mattress highlights that 74% of respondents felt buying U.S.-made furniture was important. Top reasons ranked in the survey were supporting American jobs and business, as well as concerns about product safety, quality and human rights, all of which are addressed in the article.
Topics compared by The Best Mattress go beyond the obvious benefits of preserving jobs to consider differences in manufacturing practices, economic and labor concerns, environmental concerns, and costs. A few of the highlights include the United State's stricter rules on chemicals and pollution compared to some exporting regions, as well as more regulation designed to protect workers from exploitation and less fossil fuel used for transportation.
Although clear benefits and compelling reasons for choosing mattresses made in the USA are demonstrated, The Best Mattress also highlights that simply being American-made does not necessarily equate to having the best quality or value. The article recommends comparing materials used within beds, manufacturer guarantees, reviews and personal comfort preferences when seeking the best mattress.
For consumers wishing to research further, the website lists several U.S. mattress brands by type along with some of the more popular imported brand names of imported beds. The blog also offers a detailed mattress buying guide and several informative articles on different bed types and brands.
TheBest-Mattress.org is a mattress education blog that offers insightful guides and product comparisons for consumers. The website reports on a range of topics from mattress brands to shopping tips, offering an unbiased and well-informed at look at the facts.