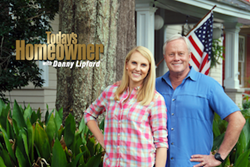 "When you can't 'see' ventilation at work, it can be hard to appreciate its importance. But without it, you will see problems arise in your home, and potentially even in your family's health. Check your home for proper ventilation, and then – use it!"
MOBILE, Ala. (PRWEB) October 16, 2018
Cameras and monitoring are top-of-mind when people think about home safety. But there are many other areas of the home where safety plays a key role in a family's health and well-being. That's why Home Expert Danny Lipford and Chelsea Lipford Wolf of "Today's Homeowner" TV hosted a "Safe At Home" satellite media event today.
Lipford and Wolf connected with 27 TV and radio journalists across the country, live via satellite, from Wolf's home in Mobile, Alabama. The father-daughter team shared tips and product advice in three key areas: fire safety, air quality and security.
Fire Safety
The first line of defense for fire safety is to make sure your home has a working smoke alarm. Lipford explained that alarms today are made with internal lithium batteries, and advised homeowners to replace alarms older than 10 years. In addition, he cautioned viewers to test alarms by holding a lighted match near them to ensure they detect smoke.
Lipford and Wolf showed viewers how they can add another layer of fire protection to their homes with a surprising product – insulation! Wolf selected ComfortBatt from Rockwool to add to her home because of its fire-resistant properties. She explained that Rockwool makes stone wool insulation, which is spun from actual rock, so it doesn't burn. In the event of a home fire, stone wool insulation will delay the spread of flames and allow more time for families to escape, and for firefighters to prevent further damage. She also likes Rockwool because it is moisture resistant, which wards off problems with mold and mildew. And, as an added bonus, the batts are easy to cut and install, making this a perfect DIY project for homeowners.
"Not everyone can get excited about insulation, but me and my pocketbook – we're thrilled," said Wolf. "Adding insulation to your home has so many great benefits including energy savings, soundproofing and now with stone wool technology, even fire protection. I know my family will be safe and comfortable, all while saving money in the process."
Indoor Air Quality
Indoor air quality is another "hidden" safety concern homeowners need to consider. Exhausting fumes and moisture to the outdoors is vital to maintaining healthy air inside the home, and that starts with proper ventilation. Vent fans are most commonly installed in kitchens to help remove fumes and grease from cooking. And bathrooms will typically contain vent fans to help remove moisture and prevent mold and mildew.
"When you can't 'see' ventilation at work, it can be hard to appreciate its importance," said Lipford. "But without it, you will see problems arise in your home, and potentially even in your family's health. I encourage homeowners to check their kitchens and baths, and any other rooms that generate moisture or fumes. Make sure they have proper ventilation, and then – use it!"
Lipford pointed out kids' rooms, home gyms and craft rooms are also good candidates for ventilation. Odors and fumes can collect in these rooms, so having a vent fan installed is an easy way to keep the air clean by removing allergens and unpleasant odors.
With two young children, healthy air is a top concern for Wolf, so her she and her dad plan to install an additional vent fan in her kids' bedroom. Wolf selected the Sensonic vent fan from Broan, because, in addition to its ability to eliminate pollutants and allergens, it is quiet and even contains wireless speakers. She can pair her phone to the vent to play soft music for naps and bedtime.
Security
Home security technology is readily available today, affordable, and easy to install. While many homeowners select cameras to monitor outdoor activity, Wolf added cameras indoors to keep an active eye and ear on her children. She installed two Côr indoor cameras from Carrier – one in her kids' room, and another in her sunroom. With the cameras' wide-angle view, Wolf can easily keep track of her kids' activity. And, since the system sends push notifications to her phone, Wolf can monitor indoor activity at her home no matter her location.
Lipford and Wolf wrapped up the media event suggesting additional safety tips for the home, including:

Regularly clean lint filter and dryer vent to reduce fire risk
Install grab bars in bathrooms to prevent slips and falls
Regularly change air filters to ensure optimum indoor air quality
The media event, sponsored by Rockwool, Broan and Carrier, reached a nationwide audience of more than 20 million viewers. A broadcast-ready clip with Lipford and Wolf's advice is available to the media.
About Today's Homeowner Media
"Today's Homeowner" is a trusted home improvement authority delivering fresh, original, practical advice to consumers across diverse media platforms including the top-rated, nationally syndicated "Today's Homeowner" television show, now in its 21st season and its radio counterpart, the nationally syndicated "Today's Homeowner" radio show.
Additionally, the media brand hosts the top home enthusiast destination website, TodaysHomeowner.com, drawing more than 2.5 million monthly visitors, robust social media channels and the award-winning lifestyle blog and web series, "Checking In With Chelsea." 3 Echoes Productions, the professional production arm of the brand, serves an impressive national clientele with expert video services.
Host and founder of the brand, Danny Lipford, is among the most sought-after home improvement experts in the country. The seasoned remodeling contractor and media personality served as the home improvement expert for CBS's "The Early Show" and The Weather Channel for over a decade and has made more than 190 national television appearances on "FOX & Friends," "Inside Edition," "Morning Express with Robin Meade," FOX Business Channel, "Rachael Ray" and more. He travels the country making appearances as a brand ambassador and spokesperson, and contributes expertise to hundreds of popular magazines and online media outlets each year.