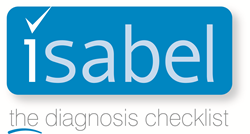 The intersection of the decision support capabilities of ACR Select and Isabel further provides tools to improve care and test appropriately
Ann Arbor, MI (PRWEB) December 01, 2014
Isabel Healthcare today announced a partnership with National Decision Support Company (NDSC), provider of evidence-based decision support for the appropriate utilization of all medical imaging procedures via ACR Select. The companies have collaborated to deliver diagnosis decision support from Isabel via the EMR integrated ACR Select solution.
Arriving at the correct diagnosis as soon as possible in the patient's journey is imperative as it affects all downstream testing and procedures. The Isabel diagnosis decision support tool is currently used by physicians around the world to help create a differential and consider other possibilities. Integrating Isabel diagnosis within ACR Select provides immediate access during order entry process. During imaging order entry and reasons for exam are selected and ACR Select is accessed, NDSC has enabled single click access to Isabel within the appropriateness feedback so that a differential diagnosis based on selected clinical features can be reviewed and alternatives can be easily considered. This provides the ability to consider "what else might be going on" as they work up their patient.
"We are very excited about the integration of Isabel with ACR Select as it provides another access point for the clinician to consider other diagnoses prior to ordering," said Don Bauman, chief executive officer of Isabel Healthcare. "The intersection of the decision support capabilities of ACR Select and Isabel further provides tools to improve care and test appropriately."
"With the integration of Isabel, NDSC is continuing its mission as the leader in delivery of meaningful decision support to clinicians where and when they can impact care," said Michael Mardini, CEO. "It is extremely rewarding to partner with Isabel to deliver its diagnosis tools allowing clinicians to consider other possible diagnoses prior to ordering exams."
The Isabel integration will be demonstrated at the NDSC RSNA booth #5504 November 30- December 5, 2014 in Chicago and are slated for commercial release in early 2015.
About Isabel Healthcare
Isabel Healthcare Inc. was founded in 2000 by Jason Maude and is named after Maude's daughter who almost died after a potentially fatal illness was not recognized. For over 14 years, Isabel Healthcare has been validated and peer reviewed and now recognized as the leader in diagnostic decision support. Isabel is the only diagnosis checklist system fully integrated with EMRs. In addition to Isabel Professional, Isabel's family of diagnosis performance solutions also include the Isabel Symptom Checker for consumers and patient engagement, Isabel Clinical Educator, a case based learning platform for clinical learners and Isabel Active Intelligence, a fully embedded diagnosis intelligence solution. Connect with us at http://www.isabelhealthcare.com, or 734-332-0612.
About National Decision Support Company
National Decision Support Company (NDSC) is the exclusive distributor of national standards clinical decision support (CDS) imaging guidelines. NDSC provides the technical platform, support, and licensing of digitally consumable CDS that continuously educates providers regarding the latest evidence-based approach to medicine without disrupting the doctor-patient relationship or delaying needed care. For more information, visit http://www.NationalDecisionSupport.com or visit RSNA 2014 booth 5504.
About ACR Select
ACR Select, provided by National Decision Support Company, is the complete web service version of American College of Radiology (ACR) Appropriateness Criteria® (AC). ACR AC is a comprehensive national standards clinical decision support database that provides evidence-based decision support for the appropriate utilization of all medical imaging procedures. More than 300 volunteer physicians, representing more than 20 radiology and non-radiology specialty organizations, participate on the ACR AC expert panels, continuously updating these nationally transparent guidelines, and providing real-time access to the latest medical imaging decision support. The ACR Select platform can be easily integrated with computerized ordering and electronic health record (EHR) systems so healthcare organizations can effortlessly consume ACR AC guidelines and ensure that the right patient gets the right scan for the right indication. For more information, visit http://www.ACRselect.org.