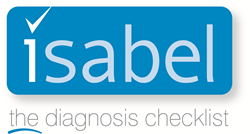 "Isabel helps our students actively pull out the clinical information to make better decisions." said Jim Carlson, Ph.D., PA-C, dean of the College of Health Professions and associate vice president
Ann Arbor, MI (PRWEB) October 22, 2014
Isabel Healthcare will participate in The Association of Schools of Allied Health Professions (ASAHP) Conference on October 22-24 in Las Vegas, NV. Jason Maude, Isabel Founder and CEO will participate in a panel discussion on Technology in Health Professions Education – Linking Training and Practice.
Isabel Healthcare provides a diagnostic decision support tool and clinical education platform designed to assist in improving the diagnosis skills of students and clinical learners. The Isabel tools help clinicians broaden their differential and get to the right diagnosis and treatment plan efficiently. During the conference Isabel will be featuring Isabel Clinical Educator.
Isabel Clinical Educator is a learning platform populated with a set of cases presented in a concise way, including real patient-provider videos provided by ReelDx; as well as institutional standard cases. Students review the case notes and video associated with each case. They then determine the relevant clinical details of the case to suggest differential diagnosis, testing and treatment. Next, they use the embedded Isabel diagnosis decision support tool to reflect and revise their findings. When finished, the learner's inputs are compared to the standard for the case and assessments of how well they performed are provided. The combination of rich case presentation, use of clinical decision tools, and research-based assessment and feedback is unique in medical education and enhanced case-based learning.
"We are very excited to share the latest version of Isabel Clinical Educator with ASAHP attendees," said Don Bauman, CEO of Isabel Healthcare in North America. "Isabel tools have been shown to improve the diagnosis skills of students by as much as 20%, enhancing their clinical reasoning skills and better preparing them for practice."
About Isabel Healthcare
Isabel Healthcare Inc. was founded in 2000 by Jason Maude and is named after Maude's daughter who almost died after a potentially fatal illness was not recognized. For over 10 years, Isabel Healthcare has provided the Isabel diagnosis decision support system to hospitals, physician practices and individual physicians and gained peer reviewed validation and unmatched experience. Today, Isabel is the only diagnosis checklist system fully integrated with EMRs. Isabel for providers is a diagnosis decision support/content management solution that supports diagnosis and treatment decisions. The Isabel Symptom Checker is designed to support patient engagement to enhance site traffic, improve loyalty, promote content and programs, and reduce patient leakage. Isabel Clinical Educator combines rich case presentation, use of clinical decision tools, and research-based assessment and feedback to provide a unique case-based learning platform. Connect with us at info@isabelhealthcare.com, 734-332-0612 or Isabelhealthcare.com or info.isabelhealthcare.com/blog to learn more.