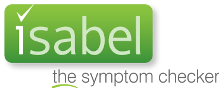 "We are pleased to include the Isabel Symptom Checker in our product offerings for Kansas patients." stated Laura McCrary, Ed.D, Executive Director of KHIN,
Ann Arbor, MI and Topeka, KS (PRWEB) August 04, 2015
Isabel Healthcare and Kansas Health Information Network (KHIN) announced today their partnership to make the Isabel Symptom Checker available to all users of the KHIN personal health record, MyKSHealtheRecords.org. The Isabel Symptom Checker provides consumers a mechanism to check their symptoms in an easy, intuitive method, provides access to material on possible conditions and assists with determining next steps. Isabel's list of potential diagnoses is generated based on the symptoms entered, it is not a final diagnosis tool, it is a research tool which enables the patient to research their symptoms and empowers them to discuss the findings with their medical practitioner as partners in care in a meaningful way.
"KHIN is a provider led health information exchange. Thus, it is critically important that KHIN provide Kansas patients with their own health records and with reputable tools that can help improve their health and wellness" stated Laura McCrary, Ed.D, Executive Director of KHIN, "We are pleased to include the Isabel Symptom Checker in our product offerings for Kansas patients."
Symptom Checkers are becoming part of everyday life and with the growing popularity of the internet, health information is at people's fingertips. Pew Research Center state that one third of United States Citizens have gone online to research their symptoms and try and figure out what their symptoms are. The challenge for both consumer and provider is distilling the pertinent and relevant information that can assist in patient-provider interaction, rather than detract from that time constrained interaction. Providing users of the MyKSHealtheRecords.org site with access to tools like the Isabel Symptom Checker allows them to interact with a highly vetted resource very similar to the one doctors have used for years to expand their differential diagnosis. It allows both the provider and consumer to ask "what else could be going on".
"Consumers are turning more and more to the Internet to research information around diagnoses, the opportunity is to direct them to trusted sites rather than general searching to get their information." stated Don Bauman CEO of Ann Arbor based Isabel Healthcare, "Providing access to the Isabel Symptom Checker to the users of the MyKSHealtheRecord.org site assists with , engaging them in their healthcare and empowering them to have informed conversations with their providers"
About Isabel Healthcare
Isabel Healthcare Inc. was founded in 2000 by Jason Maude and is named after Maude's daughter who almost died after a potentially fatal illness was not recognized. For over 14 years, Isabel Healthcare has been validated and peer reviewed and now recognized as the leader in diagnostic decision support. Isabel is the only diagnosis checklist system fully integrated with EMRs. In addition to Isabel Professional, Isabel's family of diagnosis performance solutions also include the Isabel Symptom Checker for consumers and patient engagement, Isabel Clinical Educator, a case based learning platform for clinical learners and Isabel Active Intelligence, a fully embedded diagnosis intelligence solution. Connect with us at http://www.isabelhealthcare.com, or 734-332-0612.
About Kansas Health Information Network
KHIN is a provider-led 501(c)3 organization providing health care providers and organizations in Kansas with a secure electronic network for the exchange of health information that is designed to improve quality, coordination, and efficiency in healthcare. Participants include hospitals, physician offices, mental health centers, pharmacies, and more. Founded in 2010 by the Kansas Medical Society and the Kansas Hospital Association, KHIN now has more than 1,200 members -- over 590 are actively contributing data to the network. For more information about KHIN visit http://www.khinonline.org.