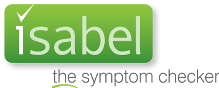 "The addition of the triage tool provides another component for patients and consumers to become engaged in their healthcare decisions," said Isabel Healthcare CEO Don Bauman.
Ann Arbor, MI (PRWEB) February 24, 2016
Isabel Healthcare announced it has added unique triage functionality to its Isabel Symptom Checker. Consumers have flocked to the Isabel Symptom Checker since its release in 2012 as they have become more engaged in their healthcare decisions. The addition of the triage tool will further assist a consumer with deciding on where to seek care.
Patient engagement is not only a requirement for achieving Meaningful Use, most believe that consumers must engage in their healthcare decisions to achieve the improvements in outcomes while reducing costs outlined in healthcare reform. In addition, the recent release of the IOM report "Diagnosis Error in Medicine" has focused the national spotlight on not only the diagnosis error problem but also on solutions including getting patients involved in their diagnosis decisions using technology like symptom checkers.
MacNeal Hospital in Berwyn, IL knew its patients were going to the internet for healthcare information. They sought solutions to bring high quality information to their patients through the addition of the Isabel Symptom Checker to their website. The tool is located on the consumer facing home page of the organization and provides access to the triage tool and links to their physicians.
"Patients are already online researching their symptoms. With Isabel Symptom Checker on the front page of our hospital website, we can ensure our patients receive high quality information and it is delivered by us" stated Chuck Bareis, MD, Chief Medical Officer at MacNeal Hospital. "We receive several hundred hits per month to our symptom checker and the patients, family and friends who I have referred to the site really find it helpful."
The Isabel Symptom Checker is based on Isabel's clinically validated and trusted professional diagnosis decision support tool which is used by physicians around the world to broaden their differential. The Isabel Symptom Checker allows a patient/consumer to enter basic demographics (age, gender, pregnancy status and region or recent travel history) and the tool returns a list of possible diagnoses for the consumer to learn more about and to discuss with their physician. The consumer can link to various other resources to learn about the diagnoses, use the triage tool to determine a potential best care venue and interact with other links to get additional services, like telehealth, lab testing and e-visits. The Symptom Checker can be used by organizations on their consumer facing websites, within a patient portal or inside a personal health record as a patient engagement tool and accessed via the Isabel UI or integrated into their platforms using the Isabel API.
"The addition of the triage tool provides another component for patients and consumers to become engaged in their healthcare decisions," said Isabel Healthcare CEO Don Bauman. "Our unique approach to triage is based on a broader look at the patient's state. By combining the results of their query with the answers to some basic questions, we can suggest a venue of care without forcing the user to pick a condition or self-diagnose.
"Anything we can do to engage our patients in their healthcare decisions is important to our organization and providing the Isabel Symptom Checker and Triage Tool further assists them in determining which of our facilities can best care for them." said Bareis.
This Isabel Symptom Checker and Triage Tool will be on display at the upcoming 2016 HIMSS conference in Las Vegas, NV in the Isabel booth in the Clinical & Business Pavilion – Booth 14081.
About Isabel Healthcare
Isabel Healthcare Inc. was founded in 2000 by Jason Maude and is named after Maude's daughter who almost died after a potentially fatal illness was not recognized. For over 14 years, Isabel Healthcare has been validated and peer reviewed and is now recognized as the leader in diagnostic decision support. Isabel is the only diagnosis checklist system fully integrated with EMRs. In addition to Isabel Professional, Isabel's family of diagnosis performance solutions also include the Isabel Symptom Checker for consumers and patient engagement, Isabel Clinical Educator, a case based learning platform for clinical learners and Isabel Active Intelligence, a fully EMR embedded diagnosis intelligence solution. Connect with us at http://www.isabelhealthcare.com, or 734-332-0612