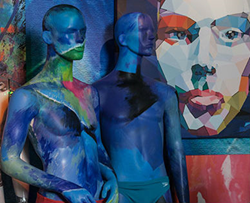 That sense of amazement and possibility that we saw in the showroom was precisely what we captured with the look and feel of the new website
Manhattan Beach, CA (PRWEB) February 19, 2015
The new handcrafted website is a bold and dramatic improvement that incorporates subtle movement, transitions, interactivity and HTML5 animation. Key features of the reinvented website include sophisticated design, engaging transitions, innovative animation and an enhanced overall user experience. The website also incorporates responsive design, adapting its display for optimal viewing on mobile devices.
Bernstein Display's mission is to provide the very best in customized, visual presentation products for display to retailers globally. Thus the objective of the redesign was to assist retail clients in browsing the company's inventory while showcasing the numerous customization options. It was important to convey the brand aesthetic, which is a blend of professionalism, elegance and craftsmanship. Now when visitors land on the Bernstein Display homepage, they can't help but to become captivated by the animated story behind the brand.
The new website immediately communicates quality, creativity and customization. Visitors have the ability to playfully spin product combinations and access products effortlessly through a structured navigation and convenient refinement tools. The Customize It page is one of the most unique and creative pages on the website. It contains an interactive feature that only touches on the myriad of possibilities available. For the first time visitors can drag and drop mannequin parts from a selection of options engaging them further in the customization process.
"If you haven't visited the Bernstein Display showroom in New York, you're missing out on viewing the most incredible display of custom mannequins and product visuals", says Alex Mathias, Senior VP at Isadora Design. "That sense of amazement and possibility that we saw in the showroom was precisely what we captured with the look and feel of the new website."
Alex Mathias adds, the interactive website dramatically enhances both engagement and the user experience. The movement, color, typography, and organization clearly and elegantly convey the brand's heritage and value propositions. To view the live website visit Bernstein Display.
ABOUT ISADORA DESIGN
Isadora Design wants to change the way people engage and interact with businesses through digital experiences. Headquartered in Manhattan Beach, CA, Isadora Design is well known in the web design community as an industry leader in handcrafted web design and development. Specialties include branding and identity, eCommerce, illustration, animation, responsive web design and website management. Signature website products help companies connect with visitors and attract more customers.
Learn more about Isadora Design