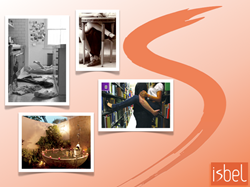 We think more can be done to support and inspire women to tap into their sensual sides in their day-to-day lives.
(PRWEB) September 10, 2013
To participate, women are invited to pin photos of locations that spark their imagination. Whether they simmer at the idea of a romantic roaring fireplace, or become excited at the thrill of being caught in a college classroom, Isbel™ wants to identify what situations and locations arouse real women. To participate, upload and tag the photo #inthemood on pinterest.com; women will be invited to continue pinning on the group board "fantasy locales by isbel". Pinners who participate by September 27, 2013, will be entered in a lottery for a women's fantasy package of books and films, including The Secretary (a 2002 film with Maggie Gyllenhaal) and Nancy Friday's collection of women's secret fantasies, Women on Top.
Exclusively for women, Isbel is a platform that brings women together to inspire each other to keep intimacy and desire alive in their relationships. While 81% of women report that sex is critical to the success of marriage and a long-term relationship, 1 out of every 2 women report being unsatisfied with their intimate life. As part of Isbel™'s mission to be an ally to women in establishing stronger, more fulfilling intimate relationships, Isbel™ is developing a new kind of online resource for women – private, anonymous, tasteful.
Dominique Gagnon, the Founder of Isbel™ and a graduate of Harvard Business School and Wellesley College, remarks: "In the tradition of Nancy Friday - also a Wellesley College alumnae - who broke cultural barriers in the 70s by giving voice to women's desires via anonymous submission, we think more can be done to support and inspire women to tap into their sensual sides in their day-to-day lives. In order to achieve that goal, we want our new online experience to be based on validated insights from real women and therefore we encourage all women to participate! We can only begin to change the messages women receive about sex and our bodies if we collectively give voice to what is truly tasteful and desirable for us."
Anyone interested in staying informed of our launch can sign up at http://www.isbel.com.
*Isbel™ would like to stress that only tasteful, sensual photos will be accepted; any derogatory images will be removed. For any questions or terms and conditions of the contest, please contact media(at)isbel(dot)com.
About Isbel™
Isbel™ is designed to be an ally to women in building intimacy, illuminating women's real experiences and desires. Limited exclusively to women, Isbel™ provides a safe, anonymous and private environment for women online to share and discover intimacy advice and sensual inspirations, and to purchase discreetly related products and services. Featured on CBS, NBC, Huffington Post, Gawker, CNET, The Atlantic Cities, Vitamin W and The Chicago Sun-Times.