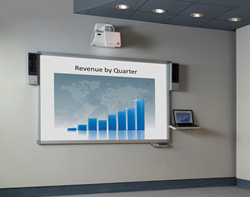 Independent market research has recently cited TeamBoard as the world's fastest-growing interactive panel supplier in most markets.
Amsterdam, NL (PRWEB) February 04, 2014
Industry veteran TeamBoard today announced the availability of distribution and reseller opportunities in select key markets around the world, for its leading line of interactive teaming technologies for business, education, institutional, and other professional settings. The announcement came at Integrated Systems Europe (ISE), at Amsterdam RAI at stand #8-K272, where TeamBoard has a number of new interactive touch technologies on display and senior executives are on hand to discuss TeamBoard's partner resources, training, and compelling reseller incentives.
TeamBoard offers a range of interactive software, interactive whiteboards, and interactive flat panel touchscreens which are in use daily by hundreds of thousands of students, educators, and business professionals worldwide.
"Independent market research has recently cited TeamBoard as the world's fastest-growing interactive panel supplier in most markets," said Sean Brown, President of TeamBoard. "Our best of breed interactive experiences deliver intuitive collaboration every time, and we are seeking partners with like-minded beliefs in quality and efficacy to contribute to both our companies' future growth together."
TeamBoard distributors and VARs are well equipped to meet market needs. "The TeamBoard Champion certification process was very detailed. I have returned to South Africa with the knowledge and skills I need to successfully sell and confidently demonstrate TeamBoard products with ease," said Simangaliso Zwane from Blue Future ICT, TeamBoard's distributor in South Africa.
The all-new TeamBoard T4 is the world's most intuitive whiteboard, with full Multitouch and MultiForce® native functionality. Also on display are the new TeamBoard Interactive Flat Panels from 19" through 84", with full interactive software. Interactive teaming technologies from TeamBoard promote team effectiveness by helping participants visually describe, develop, solve, and share ideas. For more information, stop by TeamBoard at ISE 2014, stand #8-K272 in Hall 8 on Digital Signage or visit http://www.teamboard.com.
About TeamBoard
Founded in 1994 as an Egan company, and headquartered in Toronto, Canada, TeamBoard designs, creates, and manufactures a full range of interactive teaming technologies for education, presentation and training environments. The TeamBoard product line includes interactive whiteboards, projectors, peripherals, installation solutions, interactive flat panel touchscreens, installation services, and professional technical and presentation training and development. For more information, visit http://www.teamboard.com.
TeamBoard has been certified to have established and maintained a Quality Management System and an Environmental Management System, and is registered to the ISO9001 and ISO14001 standards.
TeamBoard® and MultiForce® are registered trademarks of Egan TeamBoard Inc.
Media Relations Contact:
Dubravka Milinkovic
+1-905-851-2826
marketing(at)teamboard(dot)com
Photography Library:
For high resolution files of the below photography and for additional photography of products in education and work environments, please contact Dubravka Milinkovic above.