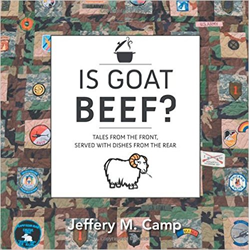 CHICAGO, Ill. (PRWEB) January 26, 2017
Jeffery M. Camp shares a humorous glimpse into military life while offering diverse meal ideas for home cooks in his debut publication featuring "Is Goat Beef?" (published by Partridge Singapore). Entertaining and enthralling, this book will surely leave readers with a hearty laugh and a full stomach.
"Is Goat Beef?" is a labor of love. It is a book that combines the author's love of humor, food and his military service. This collection of entertaining anecdotes shows a softer side of service men and women along with tasty, easy-to-prepare recipes.
"It's a humorous, fun and easy read. It will be kept by the reader since the recipes are easy and enjoyable – many will become family favorites. I wanted to combine my stories with my love of cooking to make a book that could be enjoyed over and over again," Camp says.
A snippet from the book reads:
"I can bring them from Kabul (only 60 miles away, mind you) and they will cost $25 USD each." Okay, a hundred dollars, not too bad, I thought. "From Kabul, how are you going to get them to us?"
The young interpreter didn't even hesitate. "I will bring them in the taxi." He said it like he was bringing his family to the market, not four goats.
"Is Goat Beef?"
By Jeffery M. Camp
Softcover | 8.5 x 8.5 in | 80 pages | ISBN 9781482881318
E-Book | 80 pages | ISBN 9781482881325
Available at Amazon and Barnes & Noble
About the Author
Jeffery M. Camp is a retired military veteran who served in both Iraq and Afghanistan during his 32-year career. He has held numerous leadership positions, not only in the army, but also during his 20-year career with an American multinational technology company. Camp retired at the rank of lieutenant colonel after commanding the 33rd Brigade Special Troops Battalion and completing the U.S. Army War College with a master's in strategic studies. He earned a Bronze Star during each of his combat deployments. Camp learned to cook over the years, at first out of necessity and later out of desire, turning this hobby into his passion. During travels to exotic places, he took cooking classes to learn the local cuisine and incorporates many of the techniques and flavors into his recipes. He is on the board of directors for Paws for Purple Hearts. He currently lives in Abu Dhabi with his wife, Mari-Ann, and their two cats.
Partridge Singapore, an imprint in partnership with Penguin Random House Singapore, aims to help writers in Singapore, Malaysia, and the rest of Southeast Asia become published authors. Partridge Singapore gives authors in the region direct access to a comprehensive range of expert publishing services that meet industry standards but are more accessible to the market. For more information or to publish a book, visit http://www.partridgepublishing.com/singapore or call 800 101 2657 (Singapore) or 1 800 81 7340 (Malaysia). For the latest, follow @PartridgeSG on Twitter.
###