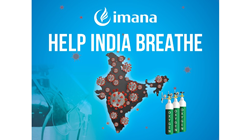 "We have already laid the groundwork to airlift these critical supplies to India and are working directly with the respective government agencies overseeing the response. The lifesaving supplies will be appropriately distributed throughout India, supporting COVID-19 hospitals."
LOMBARD, Ill. (PRWEB) April 29, 2021
In response to the drastic rise in COVID-19 patients in India and the resulting shortage of oxygen delivery systems in the country, the Islamic Medical Association of North America (IMANA) has procured critical non-invasive supplies to be dispatched to India. The shipment includes more than $146,000 in supplies including 14 pallets of oxygen delivery systems containing 21,000 non-rebreather masks and 30,000 nasal cannulas.
India has reached more than 200,000 coronavirus deaths and more than 18 million reported cases. The numbers though are rapidly climbing with 300,000 reported new infections every day this past week, according to information from the World Health Organization (WHO). This has put immense pressure on India's hospital systems, and the devastating second wave of the virus shows no sign of slowing.
IMANA's supplies couldn't come at a better time as supplies are critically low. Foreign aid has already begun arriving in India and nonprofits like IMANA are at the forefront of offering what aid they can.
"As hospitals continue to run out of oxygen, beds and medications, patients have been turned away in droves, leading to a complete collapse within the country's health care system," explained Akrama Hashmi, managing director of IMANA. "We have already laid the groundwork to airlift these critical supplies to India and are working directly with the respective government agencies overseeing the response. The lifesaving supplies will be appropriately distributed throughout India, supporting COVID-19 hospitals."
On instructions from the government, Air India has waived all freight charges for such shipments. For quick, smooth and easy clearance on arrival, all customs duties have also been waived. IMANA plans to send additional supplies as more resources become available.
Hashmi encourages those who can help support these efforts. IMANA has set up a dedicated fundraising effort on JustGiving.com under a Help India Breathe Campaign.
About the Islamic Medical Association of North America (IMANA)
IMANA is a registered 501(c)(3) nonprofit organization, a key resource and a network for American Muslim physicians and health care professionals. IMANA has provided global medical relief to over 2.5 million patients in 34 countries.
IMANA also supports health care access and equity initiatives in the U.S. through grant making, medical debt relief and other programs. For more information, visit IMANA.org.