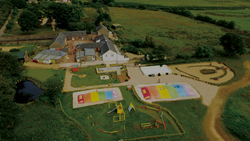 We're going to change lives. Not only the lives of those who survive major disasters, and those in developing countries, but the life of some lucky winner.
Norman, Oklahoma (PRWEB) November 10, 2016
In the wake of Trump winning the Presidency, a lot of Americans are threatening to leave the USA for pastures greener abroad. This could be the perfect opportunity.
One lucky person could become the owner of a sprawling and idyllic island estate – for the cost of a $75 raffle ticket. See what the Daily Mail had to say.
In an unusual move, a 7-acre property located on a picturesque Scottish island is now up for grabs in a fundraiser designed to change not only the lives of those less fortunate after disasters and in developing countries, but also the life of the winner who'll walk away with the ultimate lifestyle. Similar to popular "Dream Home" draws, this raffle is opening the door up for anyone to win a slice of paradise.
"The current owners, who want to remain anonymous, could have gone the traditional route, sold the property on the market, and then pocketed the profits – but they want to make a difference – they want to help change the world anyway they can," said James L. Clark, a spokesman for Boots on the Ground, the 501(c)(3) humanitarian organization operating the legal property raffle. "Not only will someone's life be changed when they win the property, which they probably wouldn't have been able to buy on their own, but all of the profits will help survivors of disasters and others in developing nations," he said.
From granite highlands to sweeping heather-covered valleys, ancient standing stones and castles, to pristine beaches and rare wildlife – the island has everything one could possibly ever want. Voted Europe's top tourist island, Arran is known as an outdoor paradise. With seven different golf courses on the island too, the winner can play a new round every single day of the week.
Arran is easily accessible from the mainland by regular ferry, and close to Scotland's major airports. The new owner can live live on the property and use it as their private resort, sell it at a profit, rent it out to tourists, or lease the property and enjoy a handsome hands-off income. They'll get a spacious home with views of the sea and mountains for miles, a massive coffee shop, a 42-seat custom-built movie theater, a spacious private gym, huge adventure park with 50-foot leap of faith, ice skating rink, go karts, duck pond, the largest bouncy pillows in Europe, and more.
"We've been helping people in need all over the world in the aftermath of some of the worst disasters in modern history. There's nothing more important than serving and making a difference in people's lives – and this is a wonderful way to do that. Not everyone can deploy like we do. But people can participate in this raffle and help. Even if a ticket holder doesn't win the grand prize, they'll still be helping others because the profits are going directly to worthy causes in places like Haiti and Nepal. They'll still be doing something good. Something wonderful for others. That's a win-win. And those are the kind of people who hope get involved. Someone like that deserves to win the property too. Someone like that deserves some good back," said James L. Clark, from Boots on the Ground.
So what projects will the profits go to support?
Boots on the Ground is dedicated to empowering veterans and qualified civilians to provide in-field emergency and other assistance required to sustain life, facilitate recovery, and to encourage and promote long-term development, stability, and peace in underserved areas of the world. Veterans in particular are given opportunities to use their background in the service of others.
Another program the profits will support is in emerging technology for emerging and developing nations; Boots on the Ground will roll out TV white space broadband in remote areas. The United Nations declared internet access a human right, and we're developing low-cost high speed connectivity programs in places like Haiti, where less than 18% of the population has access to internet once a year.
Jeff Albrecht, a world renowned artist also from California, has also donated paintings based on photographs showing the devastation left in Haiti and Japan that are going to be raffled off. Additional cash prizes will be offered, as well as, social media raffles that require no purchase at all.
Anyone can have their own island estate from just $75. And the odds of winning are significantly higher than state-ran lotteries or power balls.
For more information on prize inclusions or to purchase tickets, visit: http://www.islandraffle.com.
For more information about BOTG visit: http://www.bootsontheground.org.
For more information about BOTG White Space Internet programs, visit: http://www.whitespaceinternet.org or http://www.bootsontheground.org/whitespaceinternet
Email Boots on the Ground for high res video or photos.