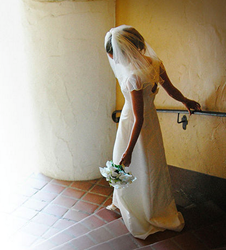 Any tattoo concealer used must look natural and last a long time.
FORT LEE, New Jersey (PRWEB) September 28, 2013
Tattoos have never been more popular, and more people than ever before go for the idea of placing permanent images on their bodies. But there are moments, such as a wedding day or an important job interview, when some want to conceal their tattoos. In the latest blog from IsntSheTrendy.com titled, "Conceal Your Tattoo for any Special Occasion", guest blogger Liz Ernst looks at the effectiveness of "Lock-It" tattoo concealer from tattoo celebrity ("L.A. Ink") Kat Von D. for Sephora.
Body art is a problem most brides of past generations didn't have to worry about, but today tattoos are ubiquitous among Millenials and Gen Xers who are currently of the age to marry, according to Ernst. With bridal gowns of a skin-baring nature the most popular choices, today's young brides have some decisions to make
"Many brides want to show off their tattoos in their wedding dress, but others don't want them to show at all," Ernst says. "It could be because family members object to them, or just because the bride has a tat-less vision of her wedding day, so any concealer used must look natural and last a long time."
Weddings aren't the only occasion that call for camouflaging body art; a tight job market has both men and women searching for a dependable way to conceal their tattoos for job interviews in which they aren't sure how their body art will come across, or if they know the company to be conservative.
"There just hasn't been a quality concealer for tattoos available that work, stay put, and don't feel like clay until now," Ernst says. "And the Kat Von D. name on the product is one young people relate to and trust."
Von D.'s concealer comes in a range of shades to match any skin tone and applies easily with a blending brush, according to Ernst. Water-resistant and transfer-resistant, it stays put all day long.
"The pigment is lightweight and natural to the touch, but it's durable and potent enough to conceal the darkest tattoos," Ernst says. "The concealer comes with instructions on how to apply it perfectly and seal it so you can get through a whole day without worrying about your tattoo showing through halfway through your important day."
For more information on tattoo concealing and other fashion and beauty trends, visit the IsntSheTrendy.com website, or email info(at)isntshetrendy(dot)com.
About Marble Media LLC:
Marble Media LLC is a creator of high-quality, content-rich blog sites that provide expansive coverage of relevant information to readers who make up a wide range of demographics. The Marble Media LLC team of expert writers covers a wide range of specialties including travel, food, health, fitness, social media, marriage, parenting, technology, weight loss, fashion and much more.
For more information on Marble Media LLC's offerings and advertising opportunities, visit the MarbleMediaLLC.com website, or email sales(at)marblemedia(dot)com.
###