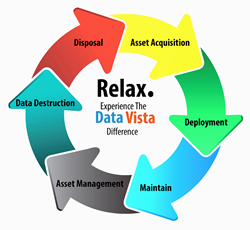 Dave During, Data Vista COO, notes "R2, ISO, and OHSAS certifications, attest to Data Vista's commitment to support "good corporate citizen" policies for our company, and our clients who employ Data Vista for equipment disposal and data destruction.
Westampton, NJ (PRWEB) August 12, 2014
Data Vista is pleased to announce that it is Responsible Recycling (R2) certified. R2:2013 is the most current recycling standard, comprised of a set of processes recognized by the EPA as a means to promote and ensure environmentally responsible practices for electronics recyclers. Concurrent with the R2 certification, Data Vista was also approved for ISO 14001 and OHSAS 18001 certifications. Collectively, the certifications address environmental, worker health, safety, and security issues.
The EPA encourages all electronics recyclers to become certified by demonstrating to an accredited, independent third-party auditor that they meet specific standards to safely recycle and manage electronics. Responsible electronics recycling provides these benefits:

Reducing environmental and human health impacts from improper recycling
Increasing access to quality reusable and refurbished equipment to those in need
Reducing energy use and other environmental impacts associated with mining and processing of virgin materials – conserving our limited natural resources
These programs advance best management practices and offer a way to assess the environmental, worker health, and security practices of entities managing used electronics. The certifications utilize strong environmental standards to maximize reuse and recycling to safeguard human and environment health, institute no landfill practices, ensure downstream safe management of materials, and require secure destruction of data on used electronics. Once certified, the R2:2013 certified recycler is held to the particular standard by continual oversight by the independent accredited certifying body. A certification accreditation board accredits certifying bodies and oversees certifying bodies to ensure that they meet specific responsibilities and are competent to audit and provide certification.
About Data Vista
Data Vista provides IT Life Cycle services. Equipment recycling compliments and completes Data Vista's other lines of technology services to include - equipment acquisition, deployment, maintenance, asset management, and data destruction for computer servers, storage equipment, and communication devices. Data Vista sells and supports multi technology, manufacturer, and operating systems, for mission critical, business critical, test, development environments.
If you would like more information about this topic, please contact Mitchell Toub at 609-702-9300, ext 201, or email at mitcht(at)datavista(dot)com.