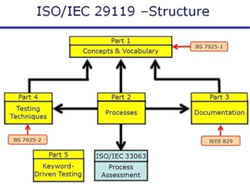 Santa Clara, CA (PRWEB) March 03, 2015
With all the negative feedback on the ISO 29119 software testing standard, and the petition running in the software testing community to stop the standard, ISO 29119 seems to be causing quite a rift between software testers. What exactly are the issues with ISO 29119 standard and can they be justified? All ISO standards explicitly state that they need to be tailored to the situation and organisation, no where does it say, 'This is the rule'. XBOSoft will run a debate to once and for all demystify ISO 29119 and understand exactly where it sits between friend, or foe.
Those on the debating panel with differing views on this hotly disputed topic are Phil Lew, Rex Black and Jon D Hagar. They will offer their thoughts on the new standard and defend their viewpoints without descending into too deep anarchy! The debate is on – who will come out top with the most persuasive argument?
To read Phil's recent blog post on this visit here: http://xbosoft.com/iso-29119-useful/
Spaces are limited to register now to avoid disappointment! Register here: http://xbosoft.com/event/iso-29119-software-testing-standard/