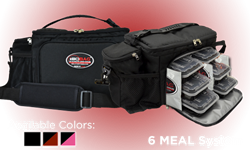 "The ISOBAG™ lunch cooler bag allows me to focus on maintaining proper nutrition while I am out on the road or if a have a busy day planned." - IFBB Pro Linda Crossley
Pittsburgh, PA (PRWEB) December 19, 2013
Isolator Fitness has added a new item to its popular line of fitness products. The ISOBAG™ is quickly becoming one of the most sought-after fitness accessories due to its ability to keep food cold and ready for people who are on the go.
Isolator Fitness, known throughout the industry as a leader in providing functional and durable products that are also incredibly practical, has released this new product with not only fitness enthusiasts in mind, but also consumers as a whole.
Linda Crossley, an IFBB pro, took some time out recently to speak about the ISOBAG™'s features and some of the rationale behind its design, saying, "The ISOBAG™ allows me to focus on maintaining proper nutrition while I am out on the road or if a have a busy day planned. This gives me the peace of mind in knowing that I will not be wasting my workout by eating poorly after it. I know that I have the exact meal that I need waiting for me in the ISOBAG™ regardless of where my schedule takes me."
Crossley went on to discuss some of the features and accessories the lunch cooler bag includes, which are many. The ISOBAG™ comes with spill-resistant containers, which seemed more spill-proof as he filled them with water and held them upside down while shaking them. Not a drop of water came out of the container. "Not only that," said Crossley. "They are BPA-free and lead-free. You don't have to worry about any contaminants is these containers." In addition to this, the containers are also easily stackable and are safe for use in the microwave, freezer and dishwasher.
When Isolator Fitness began designing the ISOBAG™, they set out to manufacture a product that was highly functional for a wide range of consumers. "We designed this bag with everybody in mind. When I look at this bag, of course I see its use in the fitness industry, because I can directly relate to that," said Crossley. "But the lunch bag can be used by anyone, whether it is someone whose job has them frequently traveling or someone who works long hours in an office setting. It has a function for everyone because it is simple and practical."
Crossley also mentioned that Isolator Fitness will be running a promotion for the ISOBAG™, offering consumers ten percent off of their purchase when they use the coupon code SALE10. "We're trying to get in the spirit of the holidays," said a smiling Crossley.