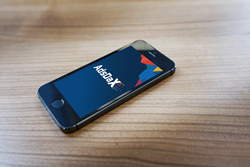 Digital Ledger technology is a game-changer for the ad tech industry and will ultimately lead to greater efficiencies for advertisers and agencies.
SWANSEA, Wales (PRWEB) March 19, 2019
AdsDax, a revolutionary, blockchain-enabled, end-to-end rich-media advertising platform has partnered with Isobar India, the digital agency from Dentsu Aegis Network, to test digital ledger technologies and measure the impact of running ad campaigns at scale on a public ledger from a technical and business perspective.
The first campaign, delivered over four weeks in January and February 2019, promoted one of Isobar's biggest auto industry brands, CEAT Tyres, via large video banner mobile adverts delivered to consumers on mobile devices from the AdsDax platform. The campaign received 2,668,000+ ad impressions that were recorded to a public ledger, providing immediate and transparent access to events in the campaign as they unfolded.
For AdsDax the ability to leverage blockchain technology comes as an expansion to their existing rich-media advertising platform. AdsDax is currently rolling out the blockchain live MVP element of their platform to select partners in the industry to understand how we may apply the new technologies and explore opportunities for improving the advertising ecosystem.
Shekhar Mhaskar, Executive Vice President at Isobar stated, "The AdsDax team have proved their blockchain platform can track live ad campaign events, at scale on an immutable, distributed ledger with transactions recorded in real-time directly from the rich-media ad creative. We believe this is a major milestone in what is likely to be the start of a journey to explore how digital ledger can improve efficiency."
Speaking about the successful test, CEO Ian Mullins stated: "Digital Ledger technology is a game-changer for the ad tech industry and will ultimately lead to greater efficiencies for advertisers and agencies. We've hit the biggest milestone in the industry so far - we have a live, end-to-end scalable solution for blockchain-tracked rich-media ad campaigns. We've proved with Isobar we can deliver advertising on a blockchain at scale. We've been partners with Isobar for many years but we are delighted not only to bring amazing interactive creative formats and engaged audiences to their brands but now insight, analysis, and opportunities from Digital Ledger Technologies."
Speaking about the technology, AdsDax CPO Ryan Davies stated: "We've been looking at blockchain and DLT technologies and assessing their potential to solve the inherent problems with the ad industry since 2017. Blockchain is still an incipient technology and there is still progress to be made by many blockchain protocols, however, this test has shown significant progress towards a blockchain solution for advertising with enough resilience and efficiency to handle the sheer amount of data generated during the advertising process, and at a low-enough cost to make it commercially viable."
About AdsDax
The AdsDax vision for a new ecosystem is a unified platform that facilitates all aspects of advert creation, campaign delivery, traffic and content verification and optimisation with transparent reporting and costs. The aim is a platform that allows all participants to benefit from the money that is currently wasted through middlemen and instead rewards consumers and incentivises participants to create more engaging and relevant ad experiences.
The founding team started as Yamgo, a mobile-oriented content provider which monetised video on mobile. As Yamgo we saw the problems content owners had monetising their content. We evolved into AdSpruce and worked to solve the problems of monetisation for content owners, enabling them to monetise video and display inventory. Through AdSpruce we developed an end-to-end video advertising platform with 28 of the world's top 100 Ad Age brands using our platform and a publisher network with over 1 billion ad code requests per month.
https://adsdax.com/