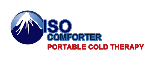 PALM CITY, Fla. (PRWEB) March 15, 2019
IsoComforter, a leader in cold therapy products for those recovering from chronic pain, surgery, or injury, is offering 31% off its IsoTube knee system.
The IsoTube knee system features IsoComforter's clean and sterile technology, including an adjustable knee pad and cold therapy unit with a power supply. This system eliminates the needs for melting bags of ice or topical treatments that can sting or burn.
The cold therapy unit attaches to the pad and delivers a steady stream of cold air that circulates through the pad. As the knee pad is designed just for legs, the application of cold therapy is very specific, targeting the area with precision. The temperature is calibrated so, unlike ice or bags of peas, the patient can comfortably and safely enjoy longer exposure times to the cold therapy.
Used for knee injuries from sports or working outs, post-op care, ACL tears, and more, the IsoTube knee system is a preferred way to relieve pain and recover faster.
To learn more about IsoComforter's IsoTube knee system. Those interested in learning about how cold therapy can provide much-needed pain relief can learn more by watching IsoComforter's video on YouTube.
About IsoComforter:
Forget melting bags of ice and messy, mushy bags of frozen peas! IsoComforter provides clean and efficient cold therapy that promotes healing while reducing the risk of infection to the damaged area. All Iso Comforter's products are designed to be easy use, clean, carry, wear and maintain. IsoComforter is pleased to have its own cold therapy system that keeps wounds clean and dry with virtually no condensation, and a complete shoulder machine that helps in rotator cuff surgery recovery.
Contact Details:
IsoComforter, Inc.
4215 SW High Meadows Avenue
Palm City, Florida 34990
Phone: 1-877-277-0367
Fax: 1-772-220-6645
Source: Iso Comforter, Inc.
###