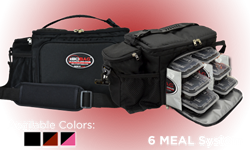 Philadelphia, PA (PRWEB) December 17, 2013
Isolator Fitness, an established leader in the fitness industry, has announced that it will be offering a coupon for the popular ISOBAG™ that saves customers ten percent on each purchase made.
The coupon code for the ISOBAG™ is SALE10 and can be used on the company's website.
The announcement of the coupon code should provide consumers with an excellent opportunity to purchase this new product from one of the most respected companies in the fitness industry.
The ISOBAG™ has become a very popular item for Isolator Fitness, as it features a very high level of functionality that works well for individuals who are frequently on the move.
The bag comes in two different sizes: A three-meal size and a six-meal size. Both bags are incredibly light and durable and boast a number of practical features and accessories as well.
Each bag has side pockets that are insulated, mesh drink pockets and a top storage compartment. The bags also feature an extra-durable shoulder strap to ensure the bag's longevity. The bags also come with ice packs for the insulated pockets and a variety of food containers that are designed specifically for use with the ISOBAG™.
The containers are stackable, which makes them very easy to store in either the refrigerator or in the ISOBAG™ itself. The containers are also spill-resistant and safe for use in the freezer, microwave and dishwasher. Additionally, they are free of both BPA and lead, making them safe for any range of storage purposes.
The bags are known to be exceptionally well-made, as Isolator Fitness has earned a reputation for focusing on manufacturing the highest-quality products available on the market. The bags are made in the United States of America and represent a tremendous value for consumers who may be in need of such a product.
The ISOBAG™ is not only an ideal product for fitness enthusiasts, but also for anyone who has a need for transporting and storing food items. The exceptional functionality and design of this bag makes it a valuable product for a broad range of consumers. That fact, along with the announcement of the ISOBAG™ coupon code, should enhance the bag's popularity even more.