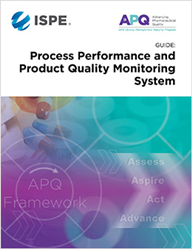 NORTH BETHESDA, Md. (PRWEB) October 17, 2022
The International Society for Pharmaceutical Engineering (ISPE) announced the release of the ISPE APQ Guide: Process Performance & Product Quality Monitoring System (PPPQMS). This Guide provides a quality management framework for assessing and advancing an organization's PPPQMS maturity level by evaluating the following aspects:

Establishing a Control Strategy
Determining Tools for Measurement and Analysis of Parameters and Attributes
Analyzing Parameters and Attributes
Identifying Sources of Variation
Including Feedback on Product Quality from Internal and External Sources
Providing Knowledge to Enhance Process Understanding
"A PPPQMS is an element of the Pharmaceutical Quality System and required for monitoring, analyzing, controlling and improving the process performance and product quality. But what defines that system and what tools are available to support are not always fully understood," said Guide Co-Lead Line Lundsberg, PhD, Lundsberg Consulting Ltd. "If you are on a digitization journey, this Guide is essential as it will help you by explaining the different PPPQMS elements. It also offers tools to assess your current maturity level and define the aspiration goals for an optimized system that is needed for a digital and automated monitoring and control system."
ICH Q10 establishes an expectation for pharmaceutical companies to "plan and execute a system for the monitoring of process performance and product quality to ensure a state of control is maintained." In addition to maintaining a state of control, an effective Process Performance and Product Quality Monitoring System (PPPQMS) enables continual improvement and proactively identifies the need for product quality and process improvements.
"If pharmaceutical companies do not have a system in place for monitoring process performance and product quality according to ICH Q10, they are not in regulatory compliance. The Guide describes Level 3 'Managed' in the APQ 5-Level Maturity Model as meeting the expectations of ICH Q10 – this level is recommended as a prerequisite for starting the digitalization journey. Digitalization is the key to advancing the maturity of the Quality Management System from 'Managed' to the 'Improved' Level 4 and finally to the 'Optimized' Level 5." said Christian Wölbeling, Executive Industry Advisor, Körber Pharma Software.
The Guide is the fourth publication in the APQ Guide series that seeks to improve the state of pharmaceutical quality and ensure sustainable compliance. The Guide Series is part of ISPE's initiative, Advancing Pharmaceutical Quality (APQ), a comprehensive program for assessing and improving an organization's quality management maturity. The program is aligned with international initiatives that promote quality excellence, as well as with the FDA's interest in quality management maturity.
Purchase the ISPE APQ Guide: Process Performance & Product Quality Monitoring System (PPPQMS), the latest among ISPE's many educational resources, online at ISPE.org/Publications/Guidance-Documents.
About ISPE
The International Society for Pharmaceutical Engineering (ISPE) is the world's largest nonprofit association serving its members through leading scientific, technical, and regulatory advancement across the entire pharmaceutical lifecycle. The 20,000+ members of ISPE provide solutions to complex pharmaceutical industry challenges through innovation, member and workforce development, and technical, regulatory, and compliance collaborations in more than 90 countries worldwide. Founded in 1980, ISPE has its worldwide headquarters and training center in North Bethesda, Maryland USA, and its operations center in Tampa, Florida USA. Visit ISPE.org for more information.